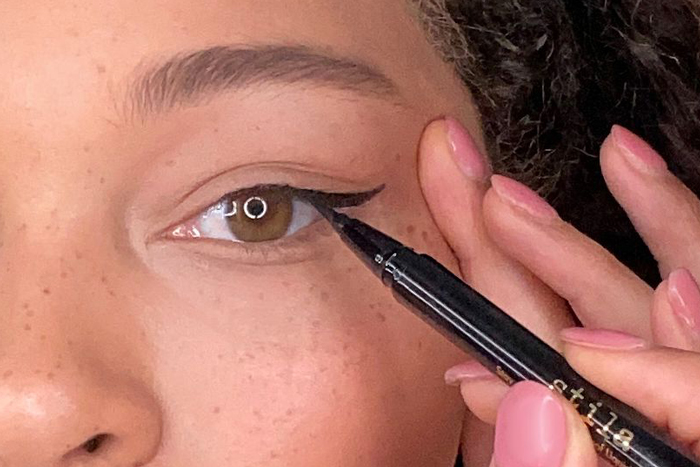 FALL 2020 BOX PARTNER
As makeup lovers already know, seasonal beauty trends are all about the eyes. Even with face masks covering up the bottom halves of our faces, we can still indulge in the graphic eyeliner trend.
What can be as simple as a minimalist accent line along certain contours of your bone structure, or as whimsical as a fervent blue wingtip, eyeliner is getting artsy and individualistic. But you don't need crazy makeup products to achieve these looks — all you need is a high-quality black eyeliner, like the Stila Stay All Day® Waterproof Liquid Eyeliner (its precision tip is a game-changer), additional liner colors if you want to play around with shades, and mascara like the Stila HUGE™ Extreme Lash Mascara to finish off the look.
For inspiration, have a look at what the celebrity makeup artists have already tried. Here are eight ways to take your graphic eyeliner above and beyond — literally.
Modern Cat-Eye
Celebrity makeup artist Sir John (who works with none other than Beyoncé) crafted this modern cat-eye. The dramatic black liner is balanced by the refined and precise placement of minimalist black lines along the contours of her eye.
---
Oversized-Cat Eye
We are obsessed with this dramatic cat-eye with precise edges, which was created by one of the planet's most-revered MUAs. Remember to use a matte black shade and to dip a precision brush in makeup remover to perfect and define your edges.
---
Looped Liner
This is another fun look that plays with negative space and the contrast between your liner and your skin tone. Simply draw on your liner and then make a neat little loop at the outer corners of your eyes. Be sure to make the loop wide enough that your natural skin shines through, and coat your lashes with mascara to give the minimalist look some extra contrast.
---
Tri-Color Liner
Celeb MUA Carissa Ferreri blurs the boundaries between graphic liner and modern art using three different shades in this colorful graphic liner. The first line is thickest, like a liner-meets-shadow. Added colors emphasize the outer corners of your eyes, making for truly whimsical wingtips.
---
Power-Red Wingtips
When it comes to shape, this sleek wingtip drawn by celeb MUA Katie Jane Hughes is as classic as it comes — we would wear it every day if we could. She opts for a statement-making color, power red, to make it a graphic masterpiece and we get undeniably fierce vibes from this look. You can also do this look with black liner if red isn't your thing!
---
Negative Space Tips
Using black or a metallic hue to create a wingtip whose corners adapt to the natural curves of your bone structure. As confusing as this all sounds, just remember that half the emphasis of this style is in the negative space. The liner isn't just there for a pop of color; it's there to accentuate the natural angles of your eyes.
xx, The FabFitFun Team
Psst! Have you signed up for FabFitFun yet? Don't miss out on $200+ in amazing beauty, fitness, fashion, and lifestyle products, access to exclusive fitness and cooking content on FabFitFunTV, members-only sales, and more. Use code HARVEST at checkout for 20% off your first box.
To get the most out of your box products, make sure to check out the Insider page.