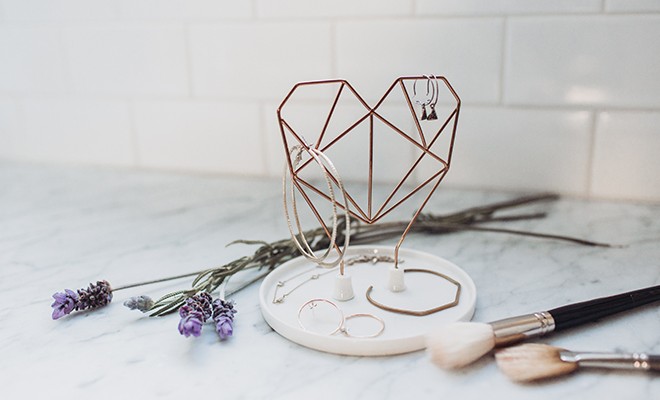 FALL 2017 BOX PARTNER
Getting ready is all fun and games until you look down and see a jumbled mess of eyeshadows, earrings, and falsies scattered on your table. We spend a good chunk of our morning sitting in front of our vanity, so an organized space is essential for a stress-free start to our day.
Check out some of these tips and tricks to keep your vanity (and your sanity) clutter-free for the morning you deserve.
Toss it
Clear your space by tossing anything that's overstayed its shelf life. Check the packaging for the expiration date, and if you can't find it, remember that mascaras and eyeliners shouldn't exceed three months, and liquid foundations and concealers should be thrown out after a year.
Divide and conquer
Categorize everything. Keep your lip products in one pile, and your jewelry in another. This will also make it easier to see what you already have so you don't overindulge on retail therapy. Anything that saves money is always a plus!
You can never have too many organizers
Don't toss everything into a drawer. Stock up on acrylic containers, upcycle old cans and candles into makeup brush holders, and divide your drawer space so there's a place for everything and everything's in its place. Use the imm Living Coxet Wire Heart Ceramic Jewelry Holder to keep all of your favorite rings and necklaces in plain sight.
xx, The FabFitFun Team
P.S. Psst! Have you signed up for the #FabFitFun box yet? Don't miss out on $200+ in amazing beauty, fitness, fashion, and lifestyle products every season. Join today!
To get the most out of your box products, make sure to check out the Insider page.