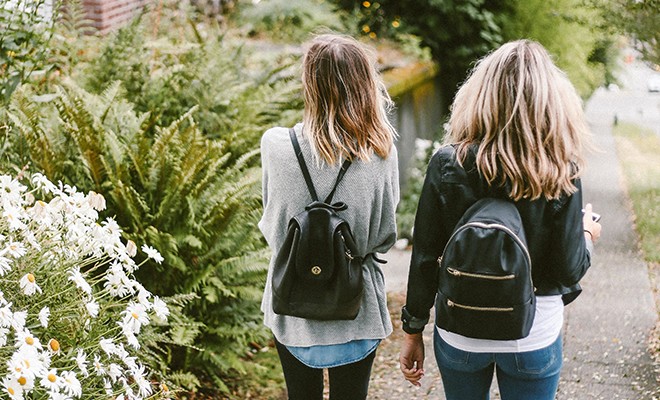 Clarisse Meyer
It's not easy living miles apart from your BFF. Whether you're in different time zones or live six-hours away from each other, it doesn't matter because it still feels like you're worlds apart.
Ahead, we've listed a few tips on how to nurture your long distance friendships and stay connected with them (yes, beyond the "double-tap" on Instagram or "like" on Facebook).
Schedule a weekly or monthly Facetime sesh. It can be really hard living across the country (or ocean!) from your best friend. So set up a video chat or Facetime sesh because it's basically the next best thing to physically being with them. Catch up, eat dinner together, or even take your friend on a virtual tour of your neighborhood.
Keep a shared journal. If coordinating a Skype call is too difficult because you live in different time zones or if it's a group of friends, start a Google Doc to keep each other posted on your lives. It'll be like a shared journal, which you can always look back on. Post recipes, photos, videos, and find suggestions of fun things for your friend(s) to do in their city!
Pick up a long-distance hobby. If you have a little extra time on your hands, create something or explore new hobbies together. Start a book club, launch a collaborative project, co-author a blog, or co-host a podcast. You'll feel more connected than ever!
Watch a movie or TV show together. Just because you're miles apart, doesn't mean you can't watch TV together! Plan on watching the same movie or TV show at the same time and text each other your thoughts while you're tuned in.
Send each other care packages. Keep in touch the old fashioned way. Send your BFF a letter and pack a box to the brim with some goodies that you can only find in your city. Or better yet, send them a FabFitFun box!
xx, The FabFitFun Team