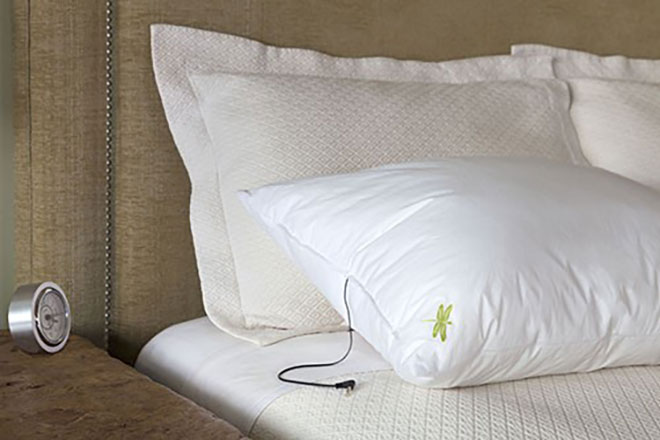 Integrated Listening Systems
We all know that a balanced diet and regular exercise is essential to a healthy lifestyle — and so is getting a good night's sleep! And we're not just talking about your beauty sleep.
In addition to keeping your skin refreshed, clocking in eight hours of sleep can help improve your memory, sharpen your attention, and spur creativity. So when you experience another restless night, consider one of these five sleep-inducing gadgets which will have you snoozing like a baby in no time.
Garmin Stainless Steek Mesh Vivofit 2 Activity Tracker $129.99
Not only does this neat little gadget track your daily activity, it also records your sleeping patterns. It essentially gives you insight into the quality of the sleep you're getting and can even increase your snooze time. The tracker acts as a wake-time and sleep-time regulator which assists in facilitating a normal sleep routine.
---
Dreampad 26 Pillow $179
This extremely smart pillow connects with any MP3 player, including iPhones and Androids, to deliver soft soothing music through gentle vibrations right to the sound sleeper. Unique Intrasound Technology carries music by the body to the nervous system, creating a relaxing mind-meets-body experience.
---
Sound Oasis Go To Sleep Therapy Mask $29.99
Your basic sleep mask just got a major upgrade. The Sound Oasis Go To Sleep Mask blocks out light and cancels out any outside distraction by drawing the eyes into the built-in blue tones. The result is a calm, relaxed mind — the perfect state to get some quality sleep.
---
NightWave Sleep Assistant $49.95
The NightWave Sleep Assistant employs a pre-sleep exercise which aids in the process of falling asleep. It projects a blue light onto your ceiling that rises and falls. As the light brightens, you breath in, and as it dims, you breathe out. You do this for a few minutes and as you drift into a peaceful lull, the light fades out completely.
---
Sound Oasis Sleep Sound Therapy System $79.99
This therapeutic sound machine will fill your bedroom with a range of soothing sounds from nature such as rain, thunderstorms, and flowing streams. It creates a relaxing atmosphere which is optimal for the best quality sleep. Plus, you can have your own rainy day-in with this gadget.
Will you be testing out any of these gadgets? Let us know in the comments below!
xx, The FabFitFun Team