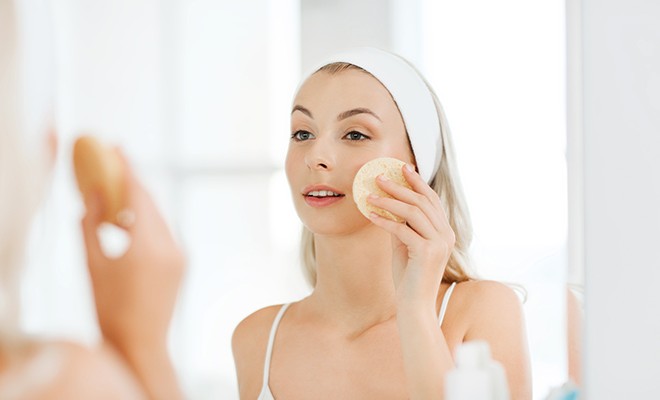 It's no easy feat to keep makeup and hair in tact come summertime. The heat melts makeup right off our face while humidity makes our locks frizzy…what's a girl to do?
Luckily, we have a few tried and true tweaks that will help your beauty routine last all day:
Exfoliate
It's important (if not even more) to exfoliate during the summer. The heat makes you produce excess sweat and oil, which can clog pores and cause unwanted breakouts — so exfoliate once or twice a week. We use the dr. brandt Poredermabrasion to help correct dull and uneven skin texture and reduce the look of enlarged pores. It also mattifies shine, which will ensure makeup won't slip and slide in the heat. Even better, it's featured in the Editor's Box, so snag yours today!
Use an oil-free primer
Switch out your standard primer for an oil-free one to ensure your makeup goes on smoother and lasts longer. The primer gives the other products something to grip onto and the oil-free formula prevents your skin from getting oily — helping it stay matte all day long.
Go lighter and waterproof
The last thing you want to do on a blistering hot day is cake on the makeup, so switch up what you can. Use tinted moisturizers instead of foundation and swap out your regular makeup, like eyeliner and mascara, for waterproof versions to ensure it doesn't run as you sweat throughout the day.
Cream over powder
Although we recommend keeping your makeup as simple as possible, go for a cream over powder product if you still want a full face of makeup — this includes eyeshadows, blushes, contour, and the like as they're far more water resistant than powder formulas. And don't forget a setting spray to keep it all in place!
Blot it
Avoid piling on setting powder when you notice your skin getting oilier and use an oil blotting sheet instead. Blotting sheets are specifically designed to pick up the oils without transferring your makeup. You'll find that your makeup will last longer and your skin will be clearer if you take away the oil rather than covering it up.
Prep your hair
If your locks tend to feel dry or lose shape throughout the day, we recommend a hydrating cream over hair spray to keep your tresses in check. We especially love the Briogeo Rosarco™ Blow Dry Perfection Heat Protectant Crème (featured in the FabFitFun Editor's Box) as it's infused with a blend of rosehip, argan, and coconut oils. Run the weightless formula through wet hair and style as usual. The moisture-rich cream will protect against heat damage and will ensure your locks stay shiny, smooth, and frizz-free.
xx, The FabFitFun Team
P.S. Psst! Have you signed up for the #FabFitFun box yet? Don't miss out on $200+ in amazing beauty, fitness, fashion, and lifestyle products every season. Join today!
To get the most out of your box products, make sure to check out the Insider page.