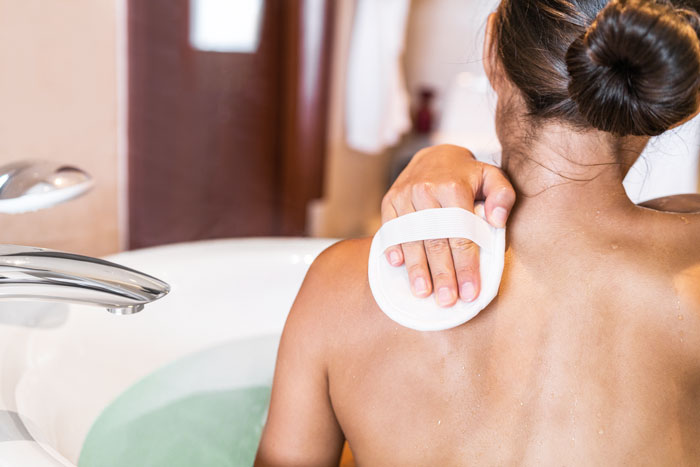 Nothing beats the gorgeous, golden glow of your skin the morning after a fresh spray tan. However, spray tans can also go very wrong – an orange finish, streaky marks, or uneven color, anyone? Yeah, we've all been there.
But next time you're faced with the aftermath of a bad tan, don't panic. We're sharing five easy fixes for your worst spray tan mishaps below.
Scrub it out
If your tan is bad from head to toe, it's time to turn to an exfoliating scrub – something with a coffee or brown sugar base will have the best effect. An exfoliating mitt is also a good option. Use the exfoliating products on dry skin before taking a shower and again on wet skin while in the shower to eliminate your spray tan quickly.
Don't go back for more
If you notice that some patches of your skin didn't get tan, your first thought might be to go back to the salon and get the spots touched up. However, spot treatment can lead to even more unevenness. Instead, just keep rinsing your body until the color balances out.
Get it wet
If you notice right away that your spray tan is way too dark, head home and take a shower to help lighten the color. If you've let your color develop and you find it either streaky or too dark, taking a dip in the pool or taking a bath can help fade the color quickly.
Try hair removal
If you need your spray tan removed ASAP, St. Tropez tanning expert Sophia Evans says using a hair removing cream could do the trick. She suggests applying a hair removal cream to your skin for six minutes to remove the tan completely or three minutes to lighten it up. We suggest using a towel you don't really care about as this process can be a little messy.
Remove stains from clothes
Sometimes it's not just your skin that has a problem with a spray tan. It's easy for your clothes and sheets to soak up the color of a spray tan too. To keep your linens and favorite T-shirt safe, turn the stained item inside-out and run it under cold water, then spot treat the area with a sponge and detergent until the stain lightens. You can then wash it as normal, but don't run the item through the dryer until the stain has come out completely as this can cause the stain to set.
xx, The FabFitFun Team
Want to take matters into your own hands? Here are five self-tanning products for the most natural glow.