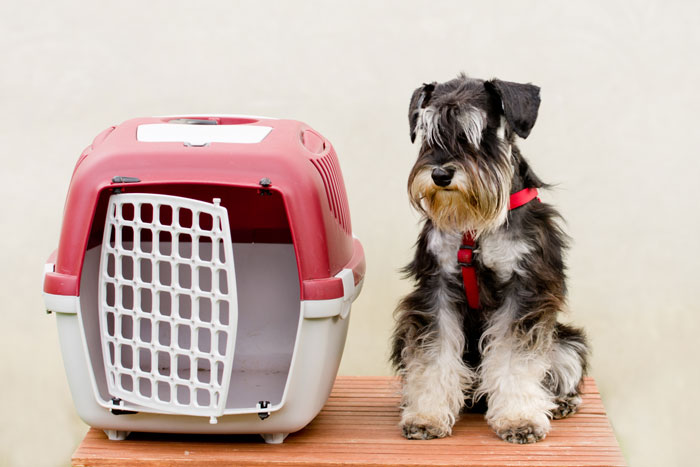 Thinking of bringing your pet on your next vacation? While car rides typically aren't a problem, flying with your pet can be a bit more complicated. To help you prepare your fur babies for their next adventure, we chatted with Carrie Jones, a former American Kennel Club USA Agility World Championship team member and Crufts International agility competitor, for all the tips and tricks for smooth sailing (er, flying).
From securing their kennel to booking direct flights, check out her best tips for traveling with your pup below.
Research airline cabins
"Before booking your flight, you should contact the airline to be sure there is space underneath or within the cabin for your dog," Jones advises. "Some flights only allow a specified number of pets on board a flight." Once you've confirmed there is space, book your flight and contact the airline directly to make your pet's reservation. There are fees associated with a pet reservation and each airline is different, so Jones suggests checking the fees online before booking any flights.
Check carrier measurements
"If your [pet] is small enough to fly under your seat, be sure to check the carrier measurements permitted for the airline so you don't have issues when getting on board and the carrier not fitting underneath your seat," says Jones. In addition, make sure that the carrier itself is easy to handle, as many airports don't let pets roam loose. You'll want to be able to carry it by hand or have access to a cart to push it through the airport.
Consider your pet's mental health
"If your dog gets anxious during a flight, be sure to consult with your veterinarian on what medication you can give prior to the flight to help with anxiety," Jones says. "There are [also] natural supplements [and] remedies that help with travel stress."
Secure a health certificate for your pet
"For flights within the US, you will need a health certificate from your veterinarian signed within one week of the flight," Jones explains. "If you have to fly your dog outside the country, be sure to look up all the requirements for the particular country you are visiting." For more information, click here.
Check the temperature
"There are temperature restrictions for flying a dog as checked baggage or cargo," Jones explains, noting to be sure to look at the airline's policies. "Typically, it can't be below 45 degrees or above 84 degrees (75 degrees for short-nosed dogs, such as pugs, bulldogs, etc.)." To help keep them cozy on a cold flight, dress them in a sweater like the max-bone Micky Mouse Color Blocked Jumper.
Try to book direct flights
"Layovers can create problems with your dog reaching the next flight in time of the departure," Jones warns.
Skip meals right before travel
"I don't recommend feeding a meal right before travel," Jones points out, noting that it could potentially lead to accidents mid-flight.
Arrive early at the airport
"Be sure to arrive at the airport at least two hours before your flight so you don't run into any issues while checking your dog in for their flight," Jones recommends.
Take them to the bathroom right before the flight
"If it's a long flight and your dog is not used to going that long without pottying, be sure to line his/her carrier with disposable liners to avoid accidents seeping out of the carrier," Jones instructs. "Be sure to leave enough time before your flight to potty your dog before going into the airport."
Make sure they have enough water
"You will need to have a water bowl fastened to the door of the crate on the inside with a small amount of water inside," says Jones. "Some people like to freeze the water in the bowl prior to arriving at the airport so that it lasts longer and is less likely to spill out."
Pack them a toy
"If you're concerned with your dog being antsy in its carrier underneath the seat, bring along a safe chew toy or stuffed Kong to keep them occupied," Jones recommends.
Label their carrier or kennel
"The carrier should be well marked that a live animal is inside," says Jones. "Also, an identification sign on the crate that includes the pet's name, picture, your name, address, phone number(s), and flight information." She also recommends writing, in all caps, "DO NOT REMOVE FROM CARRIER ONLY IN THE CASE OF AN EMERGENCY," to avoid any potential mishaps throughout the travel process.
Make sure their kennel is secure and ready for take-off
"I recommend removing the bolts from the plastic carriers and replacing them with zip ties so there is no chance of them unscrewing or coming apart," Jones says.
Confirm that your pet made it on the flight
"If you have to fly your dog as checked baggage, they will go underneath in the climate-controlled section of the plane," Jones says. "Be sure before take-off you have confirmed with the flight attendant that your dog has been loaded on to the plane. Upon landing, you will need to ask an attendant where you need to go to pick up your dog from checked baggage."
xx, The FabFitFun Team