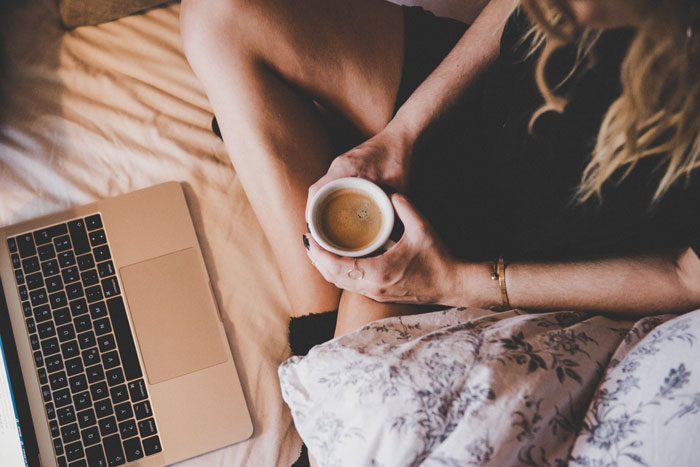 Feature Image by Yanapi Senaud
If you've been feeling down amid this gloomy winter weather, it's not just you. Even those without the seasonal affective disorder (SAD) often experience the winter blues.
Why? According to a study, the less sunlight we're exposed to, the less our brains produce the endorphin serotonin. As a result, you might notice yourself feeling sad or anxious, having irregular sleeping patterns, or experiencing a change in appetite.
Does this mean you should jet off to the Caribbean ASAP? While that probably wouldn't hurt, it's not always realistic, so here are some ways you can alleviate seasonal depression right now.
Treat yourself
Whether you enjoy a delicious meal, take a bubble bath, or cuddle up with wine and your favorite movie, do what cheers you up. "These activities will boost your mood and leave you feeling prepared to take on whatever comes your way next," says psychotherapist Kimberly Hershenson.
Make a gratitude list
Reminding yourself what you're grateful for can help shift your perspective from negative to positive. Hershenson suggests listing 10 things you appreciate in your life — from the little things like reality TV to the big ones like your family.
Help others
"Helping other people gets us out of our heads and makes us feel good," says Hershenson. You could perform a random act of kindness like buying coffee for the person in front of you at Starbucks or even something simpler, like texting a family member you miss them or listening to a friend who's going through a hard time.
Establish a daily routine
Staying in bed all day can leave you feeling more down in the dumps. Hershenson recommends establishing a routine like showering, getting dressed, and eating breakfast every day.
Accept the depression
Sometimes, the depression itself can leave us feeling more worried and upset. "It is not your fault you're feeling depressed, so let that go," says Hershenson. "One way to let go of the guilt is to accept what you can and cannot control in the situation. You cannot control the fact that you're currently depressed. You can control whether you take care of yourself with proper nutrition and sleep and look after your health."
xx, The FabFitFun Team