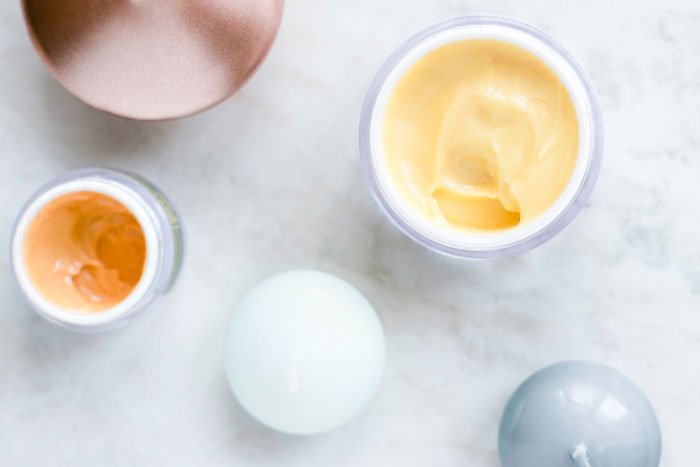 When it comes to exfoliation, most people tend towards physical exfoliants over chemical ones, but that's about to change.
Unlike physical exfoliants (which often have a grainy texture to physically buff away dead skin cells) chemical exfoliants use AHAs and BHAs to exfoliate the top layer of skin with gentle acids — some of which can be used every day and some of which should be used more sparingly.
We're big fans of chemical exfoliants since they're less abrasive, therefore less likely to damage the top layer of skin with micro-tears. From peels that help you achieve a radiant glow to ones that reverse the signs of aging, here are our favorite exfoliating peels at the moment.
Get a head start on that spring glow with this gentle exfoliating powder. It's formulated with natural papaya enzymes and once it's activated by water, it aids in the removal of dead surface skin cells while evening out skin tone for a radiant complexion.
---
This non-abrasive peel sloughs away dead skin cells, leaving skin looking bright and renewed just after one use. To top it all off, it's gentle enough to use on sensitive or blemish-prone skin.
---
If you're a fan of K-beauty, you'll love these peel pads. Formulated with AHAs and lemon extract, these pads feature a triple-layer gauze for deep exfoliation to dissolve dirt and oil on the skin. Not only that, the vitamin C from the lemon extract has amazing skin-brightening benefits.
---
This peel has gotten such great reviews so it definitely earned a spot on our list. It contains gentle acids that exfoliate and nourish without irritating the skin. Use this product regularly and you'll see an improvement in dullness, pores, fine lines, and wrinkles.
---
These peels pads are so popular right now due to the instant results. Swipe on the first peel pad, wait two minutes, then swipe on the next one for glowing skin.
---
First Aid Beauty sure knows how to do skin care. These peel pads contain glycolic and lactic acids that are safe and effective for everyday use even on the most sensitive skin.
---
This may not be a peel, but it's an exfoliating mask that works wonders on acne, redness, and pores. It's jam-packed with white willow bark, fruit enzymes, and blue tansy to gently rid skin of dead cells and decongest pores for smoother skin.
---
Gentle and lightweight, this peel penetrates deep into the pores to give your skin a deep cleanse. It's also a physical peel that's so satisfying to remove!
---
We can always rely on Murad for amazing skin care products. This peel has a powerful blend of 10 percent glycolic acid and vitamin C to reverse visible signs of aging while detoxifying the skin.
---
Last but not least, this glycolic peel is a must-have for anyone with large pores, oily skin, or dull skin. It features a non-irritiating formula including papaya enzymes and viniferine, which work together to visibly reduce dark spots and provides instant radiance.
xx, The FabFitFun Team