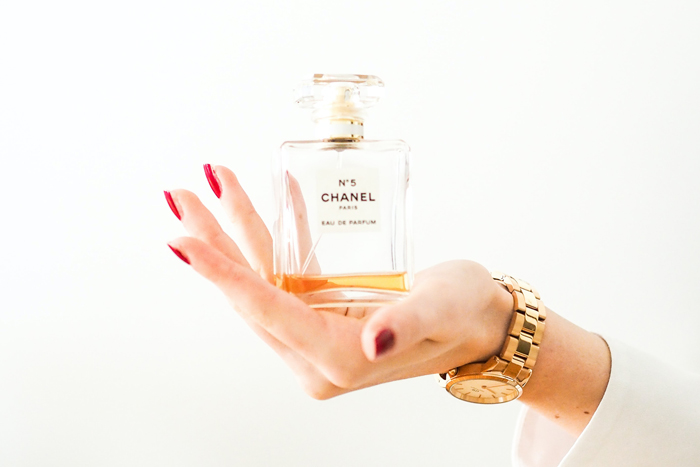 Feature Image by Laura Chouette
Finding a signature scent is no easy feat. Think aisles of dizzying aromas and dozens of samples from light and flowery to sugary sweet. Scent is personal and so completely sensory, something that gets even more complicated when trying to buy perfume online. But that's not to say it can't be done.
From learning the product buzzwords to perfume samples, there are tons of ways to shop for a new scent. We've rounded up five tips you should follow to make the process that much easier.
Learn the lingo
Perfume terminology can get convoluted if you don't know what you're looking for. Whether shopping in-store or online, pay attention to these two key terms: concentration and notes. Concentration determines a fragrance's strength, and the higher the concentration, the more perfume oils and less alcohol incorporated. Different fragrance types have varying concentration levels and therefore are more or less potent and long-lasting. From highest to lowest concentrations, these are some of the options you've likely seen strewn across your favorite bottle: parfum, eau de parum, eau de toilette, eau de cologne, and eau fraiche.
Notes describe the scents that make up a perfume, typically broken down into top, middle, and base notes. Top notes are the initial scents one smells, while the middle, or heart notes, make up about 70% of the fragrance with a long-lasting effect only to be rivaled by the rich base notes at a product's core.
Know the notes
Shoppers can move one step closer to that undeniable signature perfume simply by knowing their favorite scents. Understanding popular notes in each product is one way to eliminate the competition. Some to look out for include citrus, florals, fruits, and woodsy fragrances versus the more sugary and sweet like vanilla and sandalwood. There are a variety of scents in every bottle, but product descriptions are a good indicator of the overall essence.
Take a quiz
It seems logical to turn to perfume best sellers or top-rated picks, but scent isn't something to leave to popular opinion. Instead, try a quiz. Most perfume specialists, from major retailers like Macy's to dedicated sites like Fragrancex.com, offer some sort of personality test that takes into account factors from music interests to favorite foods and activities. The general concept behind the quiz is to pinpoint your tastes and favorite moments which can then be encapsulated by an aroma.
Test it out
Samples let wearers try out a scent before splurging on the full-size. This is an important step to eliminate buyers' remorse, and luckily most online beauty retailers offer free perfume samples with other purchases.
Buy from the right places
Like other designer goods, fragrances are vulnerable to counterfeits. That's why shoppers should always buy from reputable websites such as the brands directly or major retailers. If purchasing from a resale site, make sure to check that the seller is well vetted.
Do you have any tips for finding the perfect scent online? Weigh in on the comments below!
xx, The FabFitFun Team