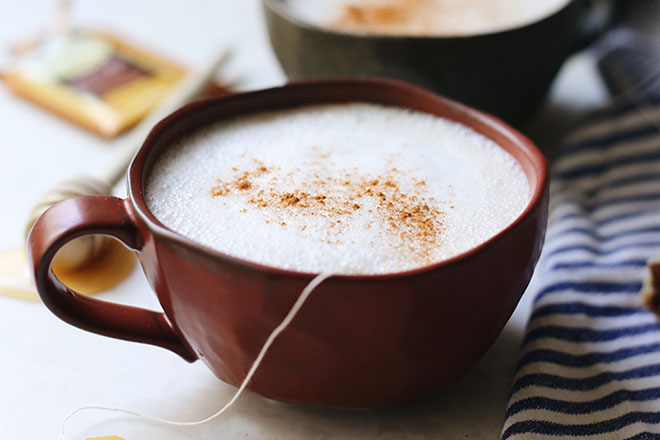 Feature Image by thehealthymaven.com
As much as we love our morning cup of coffee, we can all admit it's not healthy to be addicted to anything (yes, even caffeine). But that doesn't mean you have to give up your morning ritual of sipping on a hot drink.
Here are some cozy drinks you can whip up that contain more health benefits than your old cup of joe.
3-Ingredient Ginger Tea Latte
Ginger is one of our favorite ingredients in the kitchen; it has so many health benefits and brings flavor to just about anything. This recipe requires just three ingredients and couldn't be easier to make. We recommend making a large batch of the "ginger syrup" ahead of time to speed the process up in the a.m.
---
Matcha Latte
A steaming black coffee might have been your go-to for that caffeine fix, but this matcha latte also has the ability to energize you for hours to come. This recipe doesn't require the traditional tools (a bamboo whisk for starters) and is virtually impossible to mess up. Use your favorite milk (we personally love almond milk matcha lattes) and you have yourself a café-worthy beverage.
---
French Hot Chocolate
Skip the Swiss Miss packets and make your own decadent hot chocolate to start the morning. This mixture is rich, thick, and a definite must-try for any chocolate fanatic out there. You'll feel like you're in Paris, even if you're just sitting at your kitchen table.
---
Medjool Date "Golden Milk" Turmeric Latte
This latte requires a few more ingredients than your traditional coffee counterpart, but it's totally worth it. If you want something warm and cozy, this golden creation should be added to your routine immediately. It's vegan, nutritious, and, most importantly, delicious.
---
London Fog
If you want caffeine, but miss your traditional latte, try this sweet drink. It's an earl grey tea latte with foamy milk and vanilla – yummy, easy to make, and can be sweetened to your liking; a winning combination in our eyes.
xx, The FabFitFun Team