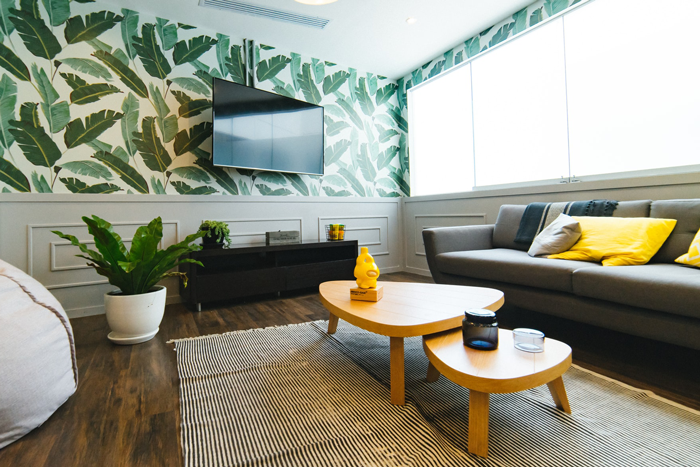 Feature Image by Dan Gold
Much like the spring style forecast, home decor equally veers towards the lighter and more playful as the temperature rises. Textures and colors become brighter as we inch closer towards the summer, allowing us to finally say goodbye to the darker palette that defines the cooler autumn and winter months.
While classic springtime staples, like greenery and pastels, will make their return this season, home decor trends will also take an interesting turn as eco-friendly fabrics, upcycling, and tech-powered decorative items become popular.
We tapped creative and interior designers to break down seven home decor trends, from floral wallpaper to DIY wreaths, worth keeping on your radar.
Think Green
With the start of spring right around the corner, interior decorator Courtney Turk advises taking inspiration from all the greenery outdoors, especially since all those shades of green will help get your space into the springtime mood.
"This could be as simple as picking up fresh, fake, or even a dried bundle of flowers the next time you are out and about," she tells FabFitFun.
However, if you have a green thumb and want to indulge in a creative DIY project, Turk advises trying your hand at growing some plants (succulents included!). Doing so, she says, helps promote some good vibes and allows your space to feel more spring-ready without spending a fortune.
---
Pops of Color
Since spring is all about playing around with pops of color, Turk recommends adding some brighter tones to your space. To do this, she suggests placing some colorful books on your coffee table as an accent piece or replacing your throw pillows with new ones in muted pastel tones.
But if you feel a creative streak coming on over spring break, Turk encourages making your own art (with your kids or friends) to give your home or apartment some warmth and character.
"Have your kids create some art (you can choose the colors to keep the palette cohesive to your overall decor), or invite some friends over to paint a few new pieces of artwork to brighten up your office or living spaces," she explains. "It might not be perfect, but it will definitely make you smile."
---
Wallpaper Is Making a Comeback
Although wallpaper is a classic decorative staple that will never go out of style, it's something not everyone enjoys. However, unlike the busy floral wallpaper found in your grandmother's house, Turk suggests the trend will get a refreshing revamp.
"This season we are seeing a lot of large flower arrangements, bold color choices, and fun patterns filled with various fruit and wildlife," she explains.
But, should you still be a bit apprehensive to give wallpaper a try, Turk recommends considering a wall decal that is removable, instead. This allows you to still indulge in that fun wallpaper look, she says, without having to commit to it altogether.
---
Wreaths

Yes, even wreaths can bring on those springtime vibes, as Turk says these decorative items aren't limited to the holiday season.
And if you already have a wreath saved from Christmas, she advises decorating it with seasonal springtime elements instead of tossing it out at the end of yuletide. This will allow you to use it for years and years to come, she adds.
"I like to dress up the very simple eucalyptus wreaths I use almost year-round," Turk suggests. "For this season, I will add some faux flowers to the mix, and maybe include a nice bow."
---
Eco-Friendly Home Decor
Creative designer Kelly Hammer suggests that environmentally-conscious home decor is also on tap for the spring forecast, as she explains that sustainable materials and upcycling (creative reuse of old materials) will be big trends to keep an eye on.
"With the environment at the top of many agendas, sustainable materials like rattan will continue to be the choice of many," she says. "Expect upcycling (and reusing furniture) to also become more mainstream this year, as it aims to reduce waste."
---
Individualistic Expression
Interior designer Pamela Durkin suggests that we are also going to see the emergence of personalized spaces that really reflect the people that live in them.
"Creating a home environment that really supports how someone lives is finally gaining in popularity," she says.
And since this trend encourages finding your decor style through your own personality, Durkin suggests incorporating unique elements that reflect who you are as an individual. For example, she advises book lovers to ditch the dining room (especially if you don't need one) and bring on the books, instead.
---
Wifi-Enabled Decor and Elements
Technology-powered advances are also carrying over into the home decor space at full speed, as Durkin highlights new wifi-enabled decor and appliances (fridges and lamps) that can keep your space sleek and your life organized.
xx, The FabFitFun Team