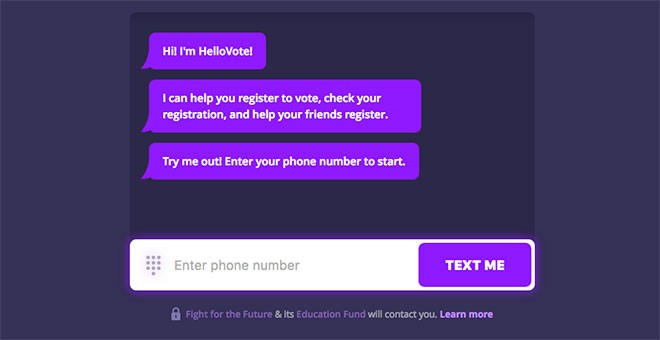 HelloVote is the first text-message based voter registration tool — and it's going to make your life that much easier.
You can register to vote by simply texting HelloVote or messaging via Facebook Messenger to start the registration process. From there, voters will be taken through a basic form which requires name, mailing address, state-based questions about eligibility…and that's about it!
Dependent on if your state accepts instant registration, HelloVote will either send your forms automatically or mail you the completed form to sign along with a pre-addressed envelope to send to your local Board of Elections.
The U.S. Census Bureau found that over 33 million people were not registered to vote in the last presidential election and one-fifth of those that didn't register said it was because they didn't have time.
Co-founder Tiffiniy Cheng is hoping to change this as over 92% of Americans owned a cellphone in 2015. "People are texting all day, every day. Now, they can use what they do every day to register to vote," Cheng told Refinery29.
You can register to vote starting today by texting 384-387 or go to m.me/hellovote in Facebook Messenger.
xx, The FabFitFun Team