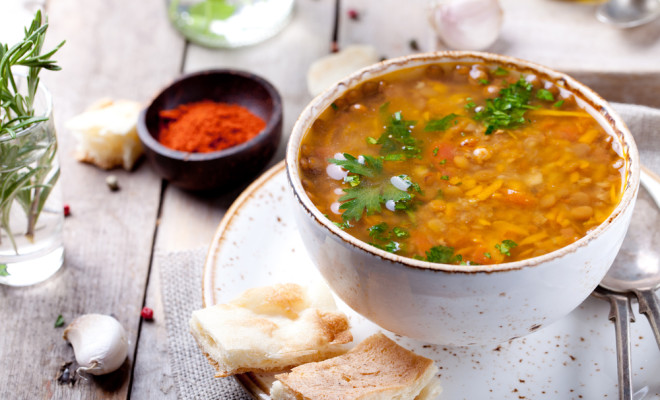 Fall is right around the corner, and we couldn't be more excited! As we prep ourselves for overindulging in pumpkin spice lattes, we also thought it would be a yummy idea to spice up our recipes too!
This red lentil soup is not only vegan and filling, but it's loaded with aromatic spices and flavors that scream hearty home-cooking! Curry powder, turmeric, cumin, allspice, and paprika all marry together beautifully, especially when fresh ginger is added to the mix. This dish is low in fat and sodium, and high in protein, essential nutrients and complex carbs — perfect for those looking to get in shape before the holidays hit! We like to call it a super soup with all of those magical ingredients inside.
Vegan Red Lentil Soup
Ingredients
1 tablespoon extra virgin olive oil
1 yellow onion, diced
3 carrots, diced
2 stalks celery, diced
1 cup red lentils
3 cups low sodium vegetable broth
2 tablespoon garlic, minced
1 tablespoon fresh ginger, minced
1 tablespoon curry powder
1 tablespoon turmeric
1/2 teaspoon cumin
1/2 teaspoon allspice
1 teaspoon paprika
1 (28 ounce) can diced tomatoes
1 (15 ounce) can chickpeas, rinsed and drained
Salt and pepper to taste
Directions
1. In a large sauce pot, heat the olive oil on medium high heat, then add the onion, carrots, celery, and salt and pepper to taste. Let sauté for about 12-15 minutes, until onions are translucent and carrots tender.
2. Add the ginger, garlic, curry powder, turmeric, cumin, allspice, and paprika to pot and stir everything together. Cook until the spices become fragrant, about 2 minutes.
3. Add the lentil, tomatoes, a pinch more salt and pepper, and broth to pot. Bring to a boil. Once boiling, reduce heat to simmer and cover the pot. Cook until lentils are tender, about 12 minutes.
4. Add the chickpeas and a pinch more salt to pot, and cook for an additional 5 minutes (with lid removed).
Serve with desired herb toppings.
xx, The FabFitFun Team