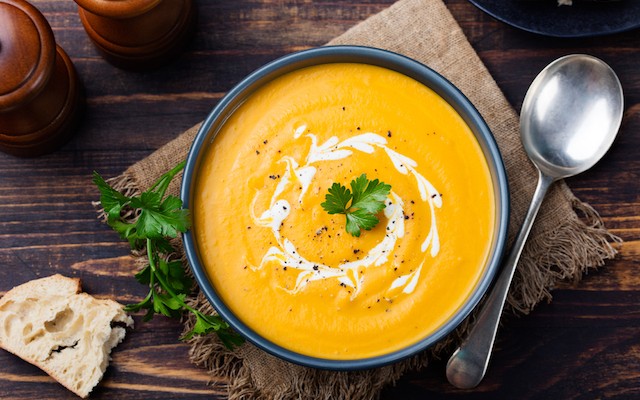 We have been living for healthy soups lately, especially with the changing of the seasons and the holidays coming up. Soup is always a go-to for us — we love how easy they are to make, and how satisfied we feel after devouring a bowl.
Today's pick is a spin on a classic potato leek soup you're probably already familiar with. We made this creamy soup sans dairy, and used Japanese sweet potatoes as our main ingredient to give a hint of sweetness. The fresh turmeric root in the soup gives it a vibrant orange color, and healthy dose of anti-inflammatory properties too!
Vegan or not, we know you'll swoon over this recipe after trying it once!
Vegan Turmeric and Sweet Potato Leek Soup
Ingredients
3 tablespoons extra virgin olive oil
3 large Japanese Sweet potatoes, chopped
1 onion, chopped
2 leeks, cleaned well and sliced, excluding the bottom root
1 turmeric root, peeled and freshly grated
4 cloves garlic, minced
1 bay leaf
5 cups low sodium vegetable broth
1 cup coconut milk
Salt and pepper to taste
Directions
1. In a large stock pot, heat olive oil on medium high heat, then add leeks and onions with generous amounts of salt and pepper. Let cook for 5-7 minutes.
2. Add the sweet potato, turmeric, garlic, and let saute for a couple minutes until the garlic is fragrant.
3. Add the vegetable broth, bay leaf, and more salt and pepper to taste to pot, and bring to a boil. Once boiling, immediately reduce heat to simmer and let the soup cook for 20 minutes, or until potatoes are tender.
4. Remove from heat, remove the bay leaf, and stir in coconut milk. With a hand blender, or regular blender, blend the soup until it becomes a puree.
5. Top with desired ingredients (we recommend green onion).
xx, The FabFitFun Team