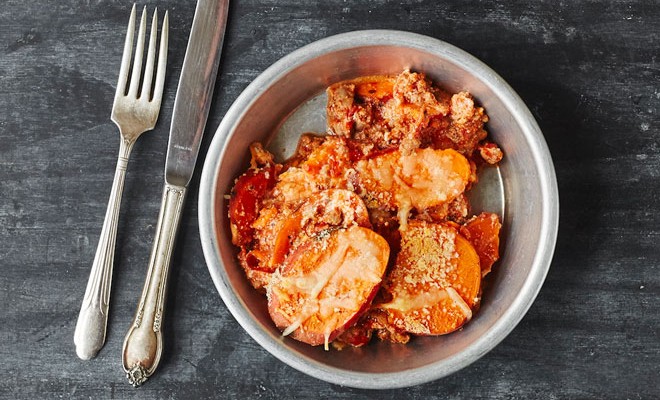 Morsel by Plated
Who doesn't love lasagna? It combines our favorite ingredients like pasta and layers of cheese, but let's be real…it's not the healthiest dish to indulge in on a daily basis.
So in honor of National Lasagna Day (July 29), we're whipping up this American staple with some healthy twists. Here's how to make your favorite carb dish a healthy one.
Use skim cheese
Cut back on the calories and saturated fat by swapping out the whole milk cheeses for non-fat, low fat, or vegan cheeses.
Swap out traditional lasagna noodles for whole wheat
This small switch adds a whole lot of fiber to your meal. While your traditional pasta contains refined flour and less nutritional value, whole wheat pasta is jam-packed with fiber, helps lower blood pressure, and speeds up the digestion process.
Add veggies
Dark greens like spinach are packed with nutrients for a fraction of the calories. Plus, spinach doesn't have an overpowering taste, making it easy to add it into any lasagna recipe. You can even add some mushrooms as a meat substitute for a punch of potassium, dietary fiber, vitamin D, and calcium.
Use turkey sausage
If meatless Mondays aren't your thing, swap out the beef and pork with a leaner meat. Turkey is a great alternative, as it cuts out saturated fat and reduces your risk of heart disease.
Nix the noodles all together
It might sound crazy, but you can actually make a tasty lasagna dish without the standard egg noodles. The secret ingredient?Sweet potatoes. It packs a lot of nutritional value including potassium and calcium, and even makes the dish gluten-free. Cut the sweet potatoes into thin planks to mimic the shape of lasagna noodles, blanch them, and cook with the other ingredients to infuse the flavor. Other carb and calorie-reduced options include zucchini, pumpkin, or eggplant.
xx, The FabFitFun Team