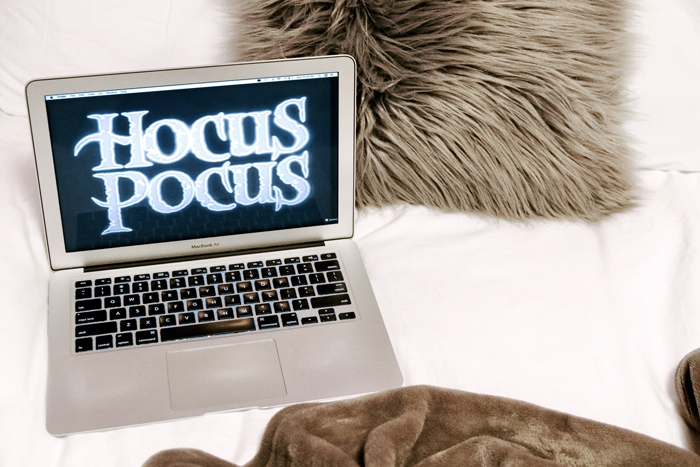 Feature Image by Andrea Davis
One of the best ways to get in the spooky spirit is by binge-watching Halloween movies. But with so many movies out there, from creepy horror films to family-friendly flicks that won't keep you up all night, trying to pick which movie to watch can be a task too daunting to handle.
That's why we're looking to the stars to decide which movie you should watch this Halloween.
Aries — Scream
Fiery Aries' battle-ready mindset is well-suited for taking down scary murderers and creepy villains, but they have a playful side too. This classic horror/comedy is a perfect match for this sign's multifaceted personality.
---
Taurus — Ghostbusters
Taurus loves a good throwback. Play into their nostalgic nature with a classic film like Ghostbusters, which has all the feel-good vibes.
---
Gemini — Double Double Toil and Trouble
As the sign of the twins, Geminis will love this popular witch tale featuring famous twins Mary-Kate and Ashley Olsen. This lighthearted movie feeds both sides of Gemini's infamous dual personality — the fun and the slightly serious.
---
Cancer — Casper
If there's one thing Cancer appreciates, it's a good cry. You may not think of this ghost movie as a tear jerker, but Casper's longing to be with Kat definitely tugs at the heartstrings.
---
Leo — Beetlejuice
It's no secret that Leos love the spotlight, much like stripe-suited Beetlejuice in this Tim Burton classic. This movie is just wild and over-the-top enough for ruckus-loving Leo.
---
Virgo — The Addams Family
Nothing can get past sharp-minded logical Virgos, much like the film's main character, Morticia Addams. She quickly catches on to imposter Uncle Fester, which is totally something any Virgo would do.
---
Libra — The Nightmare Before Christmas
Harmonious Libras are known for keeping the peace, but they're also known for their love of music. There is no better Halloween musical than The Nightmare before Christmas, which is exactly why Libras will love it.
---
Scorpio — Hocus Pocus
Scorpios are powerful, passionate, and persistent, which are the characteristics embodied by the famous Sanderson sisters.
---
Sagittarius — Halloweentown
Sagittarians crave adventure and have a sharp curiosity, much like Marnie who longs to learn about her immortal witch roots in this heartwarming Disney classic.
---
Capricorn — The Haunted Mansion
Some might call Capricorns workaholics due to their super ambitious nature, which is exactly why they will relate to workaholic Jim Evers who drags his family to a broody mansion for work — only to find out it's haunted.
---
Aquarius — The Witches
Progressive and forward-thinking Aquarians are known for being accepting and kind, even to the most undeserving of creatures, like the evil witch gang who lures children.
---
Pisces — Goosebumps
Pisces are whimsical, quirky, and highly emotional, so they need a lighthearted movie with a little bit of romance mixed in.
What's your favorite Halloween movie? Let us know in the comments below!
xx, The FabFitFun Team