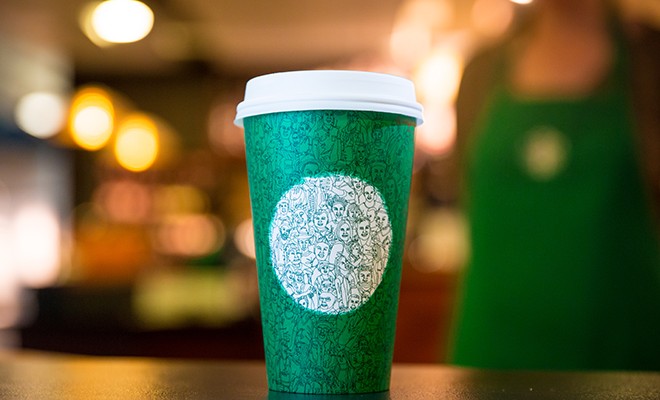 Starbucks
The annual release of red holiday cups is a time-honored tradition many Starbucks customers look forward to, so when people received green cups on November 1 instead, it caused some problems to say the least.
Artist Shogo Ota designed the cup, which features a drawing of over one hundred people completed in a single stroke. The cup is meant to celebrate unity.
"The green cup and the design represent the connections Starbucks has as a community with its partners (employees) and customers. During a divisive time in our country, Starbucks wanted to create a symbol of unity as a reminder of our shared values, and the need to be good to each other," said Howard Schultz, Starbucks Chairman and CEO.
Some are mad because the cup is green, not red:
@Starbucks This is ugly. I want snowflakes ❄️!

— crystal fox (@bluefox198107) November 1, 2016
Others don't like the message the cup represents:
@Starbucks Screw you. My coffee should NOT (and does NOT) come with political brainwashing. I dropped @Starbucks like a hot rock. — #ScrewStarbucks (@RadioAnna) November 1, 2016
Some people actually don't realize that this isn't in place of the holiday cup, and it's actually an additional limited edition cup before red cup season. Rumor has it that the "real" holiday cup will be revealed on November 10.
What do you think of the Starbucks green cup? Let us know in the comments below!
xx, The FabFitFun Team