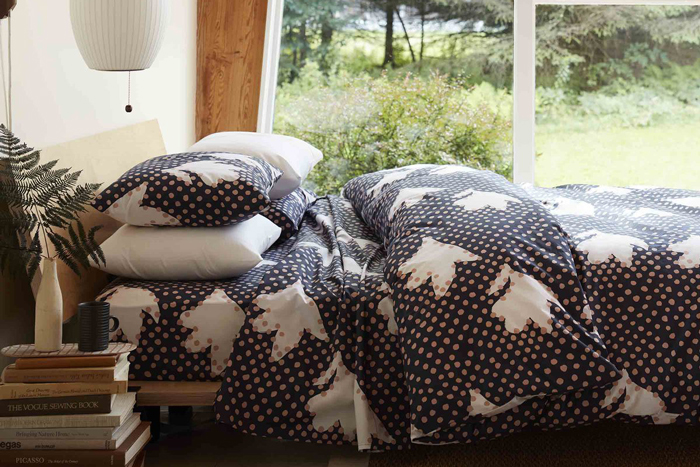 Feature Image by Brooklinen
Let's be honest: Is there anything more relaxing than a nap? What about more revitalizing than a full night's rest? We'll wait. OK, now that we're all on the same page, let's talk about what to do with that knowledge.2020 has been a year, no? So, what better way to celebrate its close than to shower your loved ones with holiday gifts that will help deliver their best night's sleep?
Whether they're sleep fanatics or have been craving ways to catch a few extra z's, ahead you'll find 10 sure-to-please gifts for the sleep-lover in your life. Here's to sweet dreams in the new year!
Part of what keeps people up at night is the lighting that fills their room. That's because traditional lights cast blue light, which can interfere with our ability to wind down (the same is true of the blue light emitted from our phones, FYI). Well, the Glow Light is designed to gradually dim at night and brighten in the morning to mimic sunset and sunrise. The result? An easier time falling asleep and waking up.
---
There's a reason why the internet is obsessed with Brooklinen sheets: They're pretty much the most comfortable bedding you'll ever have the pleasure of laying on. They feature 480 thread count cotton that feels soft and smooth to the touch. And, if you look closely, they even have a little luxurious sheen to them. Needless to say, these bed fittings will help your loved one lay down in royal comfort.
---
Pricy? Yes. Worth it? 100%. This ultra-soft weighted blanket has the look of a luxe knitted throw but weighs anywhere from 15 to 25 pounds (all of which are proven to promote better sleep). Fans of the blankets are freaking out over the newly re-launched Velvet finish, which makes the blanket look even more regal. Plus, how pretty are the gem-inspired tones?
---

Scent plays a role in how well someone can fall asleep. After all, have you ever tried to sleep in a smelly space? No, thank you. For that reason, gifting your friend a Pura Smart Device is a wonderful decision if the goal is better sleep. The device — which features a customizable night light — links to your phone via Wi-Fi and dispenses delicious scents into the air at the frequency and level that you wish. Best of all, there are dozens of scents to choose from!
---
If your friend is as much a nature-fanatic as they are a sleep lover, they'll appreciate this best-selling sustainable comforter made of eucalyptus. It's applauded for its ultra-soft finish and "handy-dandy duvet cover loops." Sounds like a no brainer, no?
---
Help your friend wind down each night with this fan-favorite gift set from Lush. Equipped with the brand's best-selling Sleepy scent, this set is sure to make your loved one look forward to their nighttime routine each and every night. It comes with Sleepy Shower Gel, Dream Cream Body Lotion, a Twilight Bath Bomb, and a French Kiss Bubble Bar. Talk about a good deal!
---
Finding the perfect pillow can be tricky. Part of that is the fact that everyone has different support needs when it comes to sleep. Since pillows really aren't one-size-fits-all, consider gifting your sleep-loving friend a fully customizable pillow. Pluto Pillows take age, weight, go-to sleep position, and more into consideration to whip up the best pillow for your needs.
---
Apparis is renowned for their insanely soft faux fur coats. Now, fans of the brand can revel in their latest launch: faux fur blankets. The supremely-soft throws are available in two sizes and a handful of colors, including bold options like bubblegum pink and purple clover, and more neutral choices, like ivory and taupe. Whichever hue you choose, one thing's for sure: Your friend is going to think of you every time they bundle up.
---
Give your bestie the gift of cozy sleepwear with this adorable mixed-print PJ shirt. The long-sleeve flannel button-up is designed to be oversized and oh-so-comfy, which ultimately means your friend will be thrilled to unwrap this gift.
---
Last but not least, we have a bold comforter that's sure to make your gift recipient smile every time they walk into their room. While we're swooning over this colorful floral number, know that RedBubble (the site that sells these artisan comforters) is home to thousands of artists selling tens of thousands of different designs. So, if bright and colorful isn't your friend's thing, know that there are plenty of other options to keep them cozy and wrapped up in warmth this holiday season and beyond.
xx, The FabFitFun Team