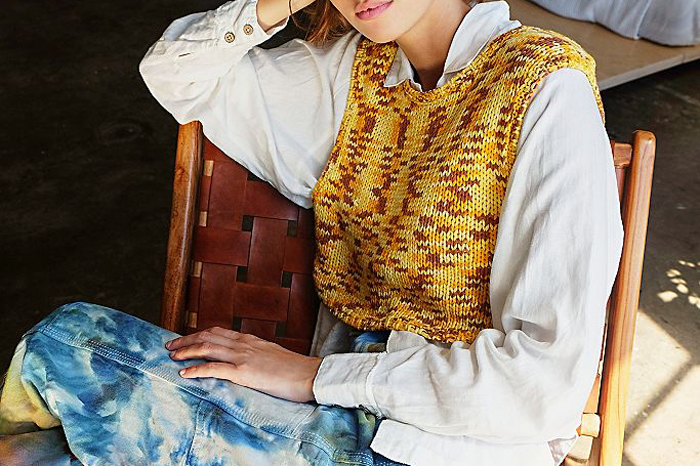 Feature Image by Free People
1970, is that you? It wasn't long ago that we heard about the inevitable comeback of the sweater vest. A few weeks later, our Instagram feeds were riddled with stylish vests!
The origin story
When we think about sweater vests we think of the 90s and Y2K adaptation of the sweater vest trend. Cher from Clueless comes to mind along with the sartorially sophisticated clan in Heathers — but the sweater vest dates back much further than we think. Getting superior recognition in the UK, the sweater vest was unearthed in the 1970s. It is a staple for professional cricketers, often paired with white flannel pants and collared shirts. Golfers followed suit, making the case that the sweater vest was far more comfortable and practical for outdoor activities.
The different styles
Browse sites like Depop, Etsy, or even your local thrift store to get a grip on the different styles of sweater vests. Quickly you'll notice that argyle, a pattern made of diamonds, is by far the most popular. Stripes and solids don't fall far behind the beloved argyle, with the button-up sweater vest and more bold prints (flowers? yes, please!) becoming increasingly popular.
Wait, how should I wear a sweater vest?
There are so many ways to wear your sweater vest. Throw on a chunky sweater vest with your favorite tee underneath, or simply wear the vest solo with nothing underneath. We love seeing girls pair the vest with a fashion tennis skirt, which is very on point with the schoolgirl trend that is circulating — but we digress. If you like a lowkey vibe, try a monochromatic look with a sweater vest and your favorite relaxed trouser and sneakers. How else should you style them? That's totally up to you!
To get you inspired, here are some sweater vests we're loving right now.
This ribbed sweater is the classic we love to see and would pair perfectly with a white button-down and black trousers.
---
This dreamy sweater vest is more quilt than it is a sweater, but it still deserves a spot on our lineup.
---
A sweater that looks like it was sewn with the love of a grandmother. Super retro, yet still modern and very flattering.
---
As we said, the argyle is a classic and so is this casual but cute vintage vest with stripes on the back.
---
While at a higher price point, we love this classic and simple muted sweater that you can pair with any fun pattern.
---
Not your typical sweater, this unique vest has us reminiscent of spring.
xx, The FabFitFun Team