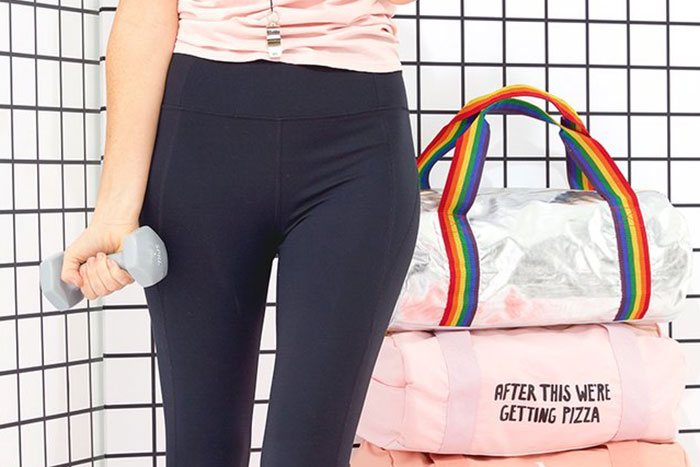 Feature Image by ban.dō
Yoga, pilates, boxing, cycling – whatever it may be, we all have that one friend who's totally obsessed with ClassPass. If you're not familiar with the fitness app, it's essentially a monthly subscription billing service that grants users access to thousands of different workout classes and studios (think of it as the ultimate gym membership).
If you're not sure what to give your fitness-loving friend for the holidays, don't fret. We found the best workout gear and accessories below.
This one may be obvious, but what better to gift a ClassPass gift card to a ClassPass enthusiast?
---
If the fitness junkie in your life doesn't have a Fitbit yet, now's your chance to completely "wow" them. It keeps track of daily exercise, food, and even sleep to make staying on top of health goals easy as 1-2-3.
---
Fitness fanatics love to look the part, (look good, feel good, right?!), and this bright-colored matching set is the perfect staple for any workout wardrobe.
---
Music and fitness go hand-in-hand, so a good pair of wireless ear pods is an absolute must.
---
ClassPass lovers can go from work to their pilates class with an adorable tongue-in-cheek gym bag in hand.
---
No fitness look is complete without a cool pair of kicks, and these Nike Flyknits embody both style and comfort.
---
Think of the S'well bottle as the holy grail of reusable bottles. Not only will it keep your water ice cold throughout your workout but it also comes in tons of fun prints and patterns.
---
Say goodbye to sore muscles! From releasing joint tension to mitigating achy muscle tissue, the benefits of a foam roller are endless.
---
A cute, lightweight scrunchie is the answer to keeping hair out of the face while minimizing creases or dents in the hair post-workout.
---
Considering your ClassPass-loving friend attends her fair share of yoga, barre, or pilates classes, a reversible yoga mat is something she'll use over and over again.
Not sure how to dress for all your workouts? Start by wearing the right shoes. Check out the best shoes for every type of workout, according to experts.
xx, The FabFitFun Team