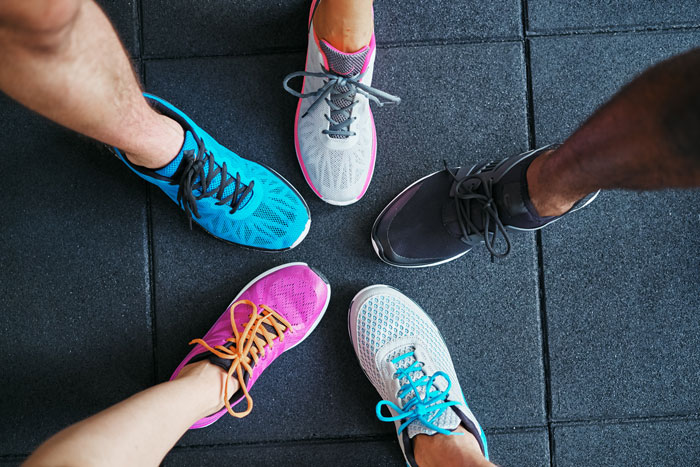 Most women will find any excuse to buy one (or two) more pairs of shoes. Well, when it comes to exercise, you should have certain types of shoes for different workouts.
But which shoe is best for your favorite workouts? We chatted with fitness experts to break down everything you need to know:
Climbing
When it comes to climbing, your shoes depend on your goal. If you climb a lot of vertical faces, comfortable and high-performing shoes are your best bet. If you want to focus on bouldering, you'll need shoes specifically designed for steep terrain. Kate Mullen of the Stronghold Climbing Gym suggests the Shakra, a comfy shoe that features a down-turned toe to help you power through overhangs. If you're a beginner, you can opt for entry-level, all-purpose shoes like the Defy Black or the Elektra. These shoes are durable, comfortable, and still sensitive enough to make use of small footholds.
Cycling
Sevana Draayer, the owner of Hollywood's Ratio Cycling, explains that cycling shoes provide the support that a soft, athletic shoe cannot. The rigid sole and cleat of cycling shoes allow the rider to maintain a high heel, providing stability in the ankle, and encouraging muscles to remain flexible without compromising the position. Mountain biking or cycling shoes like the SIDI Genius 5 Road Shoes are versatile enough to accommodate different types of terrain.
HIIT
Brent Tyler, general manager at F45, suggests cross trainers as it offers the most support during a HIIT workout. When it comes to settling on cross trainers, Tyler explains that it depends on your feet. Nike cross trainers like the Nike Free TR Flyknit 3 Leather are better suited for wide feet while Reebok and Adidas' version of cross trainers are more suited for narrow feet.
Cardio
When it comes to this sweat-fest workout, Mark Harari, the owner of Pulse Studio, says, "It's important to find a shoe that feels like it has enough padding and support when running on the treadmill while supporting lateral motion when doing floor work." He suggests cross trainers like the Ryka® Devotion XT Cross Training Shoes. The cross trainers' lateral support is great for strength and plyometric training that involve dumbbells, resistance bands, and steps on the floor.
xx, The FabFitFun Team