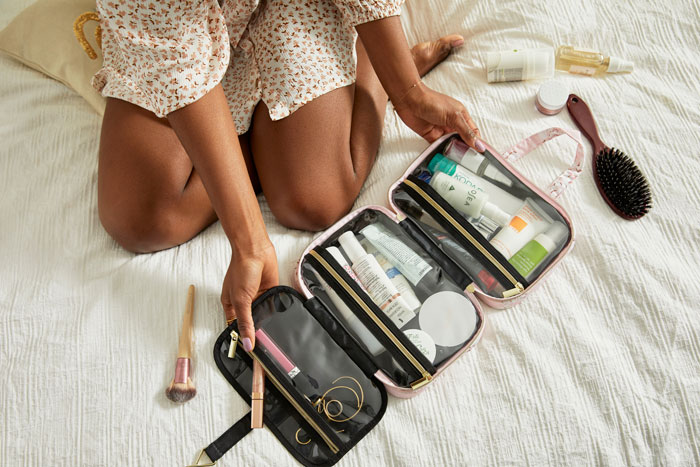 SPRING 2019 EDITOR'S BOX PARTNER
While your packing list depends on your travel destination, there's no reason to pack more than you need (who wants to lug around a 50-pound suitcase anyway?). If you're notorious for overpacking (guilty), don't worry, there's an easy fix.
Here are five foolproof tips to keep your travel bag light wherever you're headed.
Pack with a purpose
First step: Understand your travel destination, then packing accordingly. Whether you need to pack a beach towel like the Private Party "Beach Please" Beach Towel, a bathing suit, hiking boots, or a rain jacket, be prepared for all the activities you'll be doing on your trip.
Make the most of the "one carry-on, one personal item" rule
Most planes allow you to take one carry-on suitcase and one personal item, so why not make your personal item a spacious extension of your carry-on? Gym bags like the EleVen by Venus Venus Williams Foldable Gym Bag are small enough to pass as a personal item yet big enough to fit an extra pair of shoes, workout gear, beauty products, or electronics. If you don't need the extra space, take it with you anyway. Who knows what kind of shopping you'll do while on vacation?
Pack versatile accessories
You don't need a different pair of sunnies for every outfit, and you definitely don't need to wear different jewelry every day. Instead, opt for accessories that pair with all of your outfits like gold hoops, aviator sunnies (we love the DIFF Cruz Sunglasses), a black crossbody, and a simple necklace like the Ettika Opal Rose Necklace.
Remember: Organization is key
Packing light and packing smart are synonymous. Compartmentalizing different items not only ensures you're maximizing the space in your bag, but it also puts a cap on how much of each category you can actually pack. For example, limit your beauty products to just one bag (this includes both makeup and skin care!). The Yumi Kim Hanging Train Case has three zippered compartments and an additional storage area for your makeup brushes to ensure you only pack the essentials.
Stick with compact and multipurpose beauty products
No, you don't need all 10 steps in your skin care routine nor do you need three different eyeshadow palettes. Choose the bare minimum in your skin care routine and multipurpose makeup products like lip and cheek tints and day-to-night eyeshadow palettes like the ISH #imsmokinghot Palette.
xx, The FabFitFun Team
Psst! Have you signed up for FabFitFun yet? Don't miss out on $200+ in amazing beauty, fitness, fashion, and lifestyle products, access to exclusive fitness and cooking content on FabFitFunTV, members-only sales, and more. Join today!
To get the most out of your box products, make sure to check out the Insider page.