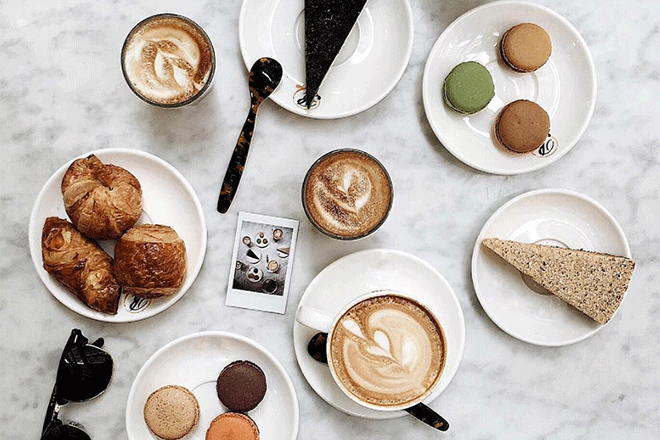 @melissamale
Scroll through Instagram right now and you'll probably see photos of models, hip cafes, and some fashion blogger's OOTD. Instagram is so saturated with the same types of photos these days… but we can never get enough of those mouthwatering food shots, otherwise known as #foodporn.
If you need a good dose of #foodporn or another excuse to browse through Instagram, check out our list of must-follow foodie Instagram accounts. We suggest you eat a decent meal before, though. Bon appetit!
@infatuation
The Infatuation is taking the food-world by storm and their Instagram account is no exception. Featuring all the best meals and restaurants from major cities across the U.S., The Infatuation is pretty much killing the foodie Insta game.
---
@dcfoodporn
This is one of the best city-specific food accounts on Instagram. From Georgetown cupcakes to hole-in-the-wall taco spots, DCFOODPORN is a must-follow for anyone looking to scope out best food in D.C.
---
@gilliehouston
Gillie Houston is the "it girl" of New York food bloggers. She scopes all the hottest food spots in New York like it's her job (because it actually is). She'll have you double-tapping all day long.
---
@beautifulcuisines
Beautiful Cuisines collects some of the most picturesque and colorful food pics from Instagram. If you appreciate good lighting, vibrant colors, and exceptional plating placement then you must follow this account.
---
@hungryinla
Hungry in L.A. is so good it hurts. We'd do anything to get our hands on any and all of the yummy dishes featured in each mouthwatering post.
---
@noleftovers_
Yet another food blogger forkin' around New York, No Leftovers posts will always leave you wanting more. And they'll inspire you to always clean your plate, and bring no leftovers home.
---
@thefeedfeed
The Feed Feed is a curated account featuring the various recipes of community cooks on their site, feedfeed.info. If you're in search of an Insta-worthy recipe, this account is worth hitting "Follow."
---
@foodintheair
If you aren't already following Food in the Air, then you're missing out! Run by four sisters from North Carolina, FITA features endless pics of hand-held deliciousness and jaw-dropping backdrops around the world.
---
@food52
Food 52 is yet another successful website bringing together the cooks amongst the interwebs. Their Instagram account features recipes and regrams of picture-perfect homemade meals and we want in!
---
@girleatworld
An international variation of Food In The Air, Girl Eat World travels the globe and shoots the best local finger foods in front of notable landmarks. It'll inspire you to delve into every dish you can find when you travel.
xx, The FabFitFun Team