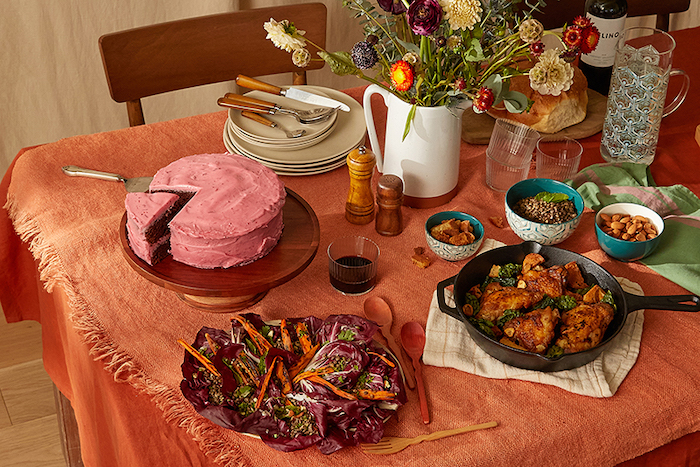 Food52 is a one-stop shop for everything cooking, including endless (and delicious) recipes for you to choose from. Try some of their fall faves submitted by the Food52 Community!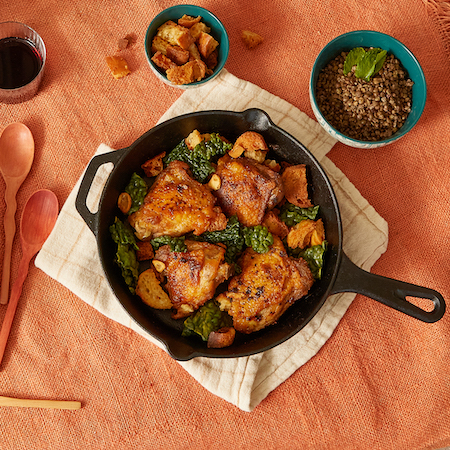 CRISPY CHICKEN THIGHS WITH KALE & CROUTONS
By Emma LaPerruque
SERVES: 3
INGREDIENTS:
1 tablespoon olive oil
6 bone-in, skin-on chicken thighs
Kosher salt
2 pinches freshly ground black pepper
10 cups chopped Tuscan kale (about 10 ounces)
3 cups torn bread chunks (about 6 ounces)
2 garlic cloves, peeled and minced
1⁄8 to 1⁄4 teaspoons crushed red pepper flakes
1⁄2 lemon, juice of
DIRECTIONS:
1. Add the olive oil to a large, heavy skillet, preferably cast-iron. Set over medium heat. Season the chicken thighs with salt and pepper. Add them to the skillet, skin side down. Cook like this, without moving, until the fat has rendered and the skin is deeply golden brown and crispy, 15 to 30 minutes. Fiddle with the heat, reducing to medium-low if the skin begins to burn before it gets evenly golden brown.
2. Meanwhile, bring a large pot of water — figure about 4 quarts — to a boil. Add roughly 2 to 4 tablespoons of salt, depending on your seasoning preference. Add the kale and cook for about 2 minutes until tender. Drain into a colander. Don't worry about squeezing out any extra water — we'll want that moisture later.
3. Turn the thighs over and continue cooking until the other side is deeply golden brown and the meat closest to the bone is cooked through, 15 to 20 minutes more.
4. When done, transfer the chicken thighs to a plate, leaving all the fat in the pan. Immediately add the bread to the pan. Toss in the fat and spread into an even layer. Now leave alone until golden-brown and toasty. Add the garlic and pepper flakes and toss. Let toast for a minute, then add the kale and toss. Cook for 5 or so minutes, until everyone is hot and happy. Squeeze lemon juice on top. Season with salt to taste.
5. Nestle the chicken thighs back in the pan. Serve immediately.
CHOCOLATE CAKE WITH CRANBERRY BUTTERCREAM
By Merrill Stubbs
SERVES: 10-12
INGREDIENTS:
For the cake:
2 cups sugar
4 ounces unsweetened chocolate 1⁄4 pound (1 stick) unsalted butter, plus more for greasing the pan
2 cups all-purpose flour, plus more for dusting the pan
2 teaspoons baking soda
1 teaspoon baking powder 1 teaspoon sea salt
1 cup milk
1 teaspoon cider vinegar
2 eggs
1 teaspoon vanilla
For the buttercream:
3 cups (300 grams) fresh cranberries
1⁄3 cup sugar
1 pinch salt
18 tablespoons (2 1⁄4 sticks) unsalted butter, slightly softened
2 egg yolks (optional)
1 cup sifted confectioners' sugar
DIRECTIONS:
For the cake:
1. Preheat the oven to 375°F, and place a baking sheet on the lowest rack to catch any drips when the cake bakes. Put the sugar, unsweetened chocolate, butter, and 1 cup of water in a saucepan. Place over medium heat and stir occasionally until all of the ingredients are melted and blended. Remove from the heat and let cool slightly.
2. Meanwhile, sift together the flour, baking soda, baking powder, and salt. In a small bowl, stir together the milk and vinegar. Grease and flour two 9-inch round cake pans. (If you prefer, you can grease them, line it with parchment, and
then grease and flour it. This is not necessary, but parchment does make getting the cake out easier.)
3. When the chocolate in the pan has cooled a bit, whisk in the milk mixture and eggs. In several additions and without overmixing, whisk in the dry ingredients. When the mixture is smooth, add the vanilla and whisk once or twice, to blend. Pour the batter into the pans and bake on the middle rack until a skewer inserted in the center comes out clean, about 20 minutes. Let the cakes cool completely, then remove from the pan and cool on a rack. Proceed by making
the buttercream.
For the buttercream:
1. Combine the cranberries, sugar, salt, and 2⁄3 cup water in a saucepan and cook over medium heat for 5 to 7 minutes, stirring occasionally until the cranberries slacken and release their juice, then start to thicken. Purée the mixture in a blender and cool completely. (You should have about 2 cups of cranberry purée.)
2. On medium speed, using electric beaters or a standing mixer fitted with the whisk attachment, beat the butter, egg yolks if using, confectioners' sugar, and 1⁄4 cup cranberry purée for about 5 minutes, scraping down the bowl several times until you have a fluffy, light pink icing. Do not worry if the icing curdles at first. Persevere, and it will all come together.
3. Level the 2 cooled cake layers with a serrated knife. Use about half the icing to fill between the layers of the cake and to apply a crumb coat. Chill the cake for 10 to 15 minutes, then finish icing. Refrigerate the cake until ready to serve.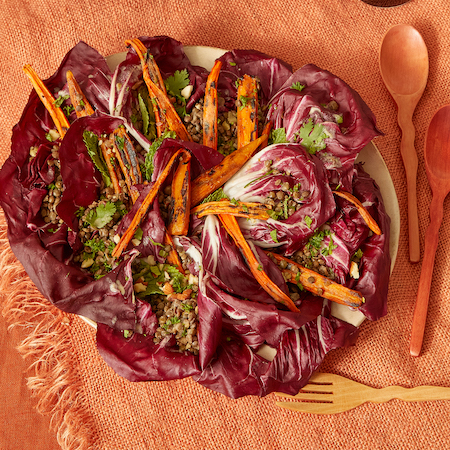 FALL SALAD WITH LEMONY BROWN BUTTER VINAIGRETTE
By Rebecca Firsker
SERVES: 4-6
INGREDIENTS:
1⁄4 cup raw almonds
2 tablespoons olive oil
1 pound rainbow carrots, scrubbed clean and halved, quartered if large
1 teaspoon Aleppo pepper (or 1⁄2 teaspoon red pepper flakes)
Kosher salt
Freshly ground black pepper
1 cup beluga or French lentils, rinsed
4 tablespoons unsalted butter
1 teaspoon whole cumin seeds, crushed
1 teaspoon whole fennel seeds, crushed
1 lemon, zested and juiced
1 tablespoon Dijon mustard
1⁄2 teaspoon honey
1 head Treviso radicchio, regular radicchio,
or another chicory
1⁄2 cup mixed fresh tender herbs like parsley, cilantro, mint, or dill, torn or roughly chopped Flaky sea salt
Toast, for serving
DIRECTIONS:
1. Preheat oven to 350°F. Spread almonds on a sheet pan and bake until fragrant and toasty, 8-10 minutes. Transfer to a plate to cool. When cool, use a small bowl to gently crush. Turn up the oven to 425°F.
2. Meanwhile, toss carrots with olive oil, Aleppo pepper, a few good pinches of salt, and some pepper. Bake 25-30 minutes, until carrots
are tender.
3. While carrots bake, bring a small saucepan of salted water to boil. Cook lentils until tender, about 12-15 minutes. Drain and set aside in a small bowl.
4. Wipe out the saucepan you cooked lentils in and melt butter over medium heat. Continue to cook until butter starts foaming, bubbling, then turns starts to golden brown and smells nutty, about 6 minutes. Use a heatproof spatula to scrape up browned bits from the bottom of the pot. Transfer to a heatproof bowl and immediately add crushed cumin and fennel seeds.
5. Whisk lemon juice, half the lemon zest, mustard, and honey into butter mixture. Add half the dressing to the bowl with lentils and season with salt and pepper.
6. Lay carrots and radicchio in a shallow bowl and spoon remaining dressing over. Spoon lentils over, letting some fall in between the leaves and carrots and others nestled inside the leaves. Top with herbs, remaining lemon zest, crushed almonds, and flaky sea salt. Serve with toast.