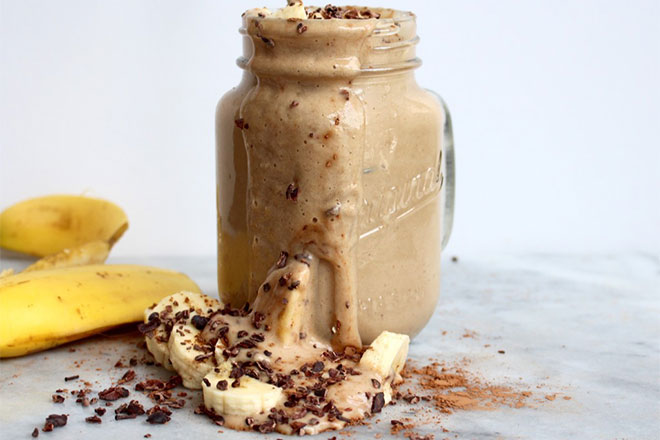 Thick, smooth, and creamy, just the way I like my milkshakes. Oops, I mean smoothies. I'm not messing around when I tell you that this Chunky Monkey Protein Smoothie is actually healthy. Yes, healthy. There's something about this decadent overflowing combination banana and cacao goodness that makes you want to think it's bad for you, but once you read the ingredients you'll get why it's so good. Replace it with your breakfast or sip it instead of that milkshake that you find yourself craving from time to time.
Dunk your spoon in and go crazy on this one. It's dairy free, soy free, and flavorful. And it has over 22g of protein!! Talk about awesome. Protein powder is what thickens it and adds the satisfying punch. I used Everlast's Vegan Protein powder. It uses plant protein from yellow peas, rice, and hemp to help build lean muscle mass and aid recovery. It works wonderfully in this smoothie.
The cacao powder is a nice touch for antioxidants and a chocolatey flavor, while the almond butter ties everything together. I also added maca powder, which is optional, but gives it a nutty flavor and helps boost energy levels. Be sure to freeze your banana ahead of time, so it's ready to go when you want to make this.
Ingredients
1 banana, frozen
1 packet Everlast Vegan Protein
1 cup almond milk
1 tablespoon almond butter
1 tablespoon maca powder, optional
½ tablespoon cacao powder
Directions
Blend all of the ingredients together until smooth and creamy.
For the latest and greatest info on health, wellness, and delish recipes, be sure to check out TheWholeTara.com!
---
This story was written by a fab member of our Ambassador Network.