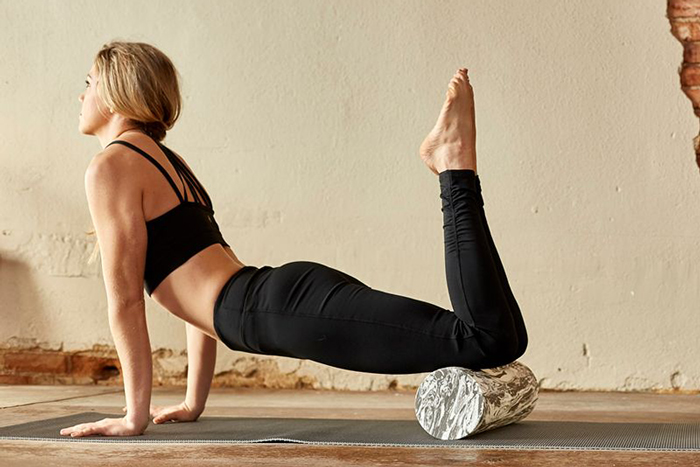 It's safe to say that most of us have become experts at working out at home. With gyms closed the majority of the year, we were all forced to get creative with our sweat sessions. But just because you might be lifting weights in the living room or doing cardio in the kitchen doesn't mean the workouts aren't as effective.
Stiff, sore muscles are still commonplace after hardcore fitness routines. Thankfully, there are a number of products to make your workouts a bit easier and help your body recover better. We've rounded up 10 of our favorites, below.
You can find these fitness goodies and more in the Winter Edit Sale. The sale opens to Annual Members on Saturday, December 26 at 9 a.m. PT. and Seasonal Members on Thursday, January 7 at 9 a.m. PT. Not a member yet? Use code GOODIESGALORE for 20% off your first box, to access member-exclusive sales, and tons more perks.
Perfect for foot pain or overall relaxation, this reflexology mat helps relieve plantar fasciitis, heel pain, arch pain, and tingling with its over 2,800 reflexology points. Massage your feet, heels, arch, pad, and toes with this mat that can be taken anywhere.
---
Staying hydrated is not only crucial during your workouts but after, as well, to help aid in muscle recovery. This bundle will make it even easier and tastier to keep up your H2O intake thanks to the zero-sugar flavor cartridges. Attach it to your lid and turn the dial to adjust the strength of flavor.
---

This portable device makes it easier to tone your abs and legs anytime, anywhere. Whether you're working out or working at the computer, the rocking movement will help keep your muscles engaged, meaning you'll be more prepared for your workouts.
---

Heat and cold are both great for easing sore muscles. Apply either one to your shoulders, back, or anywhere else you need relief the most. The unique design allows a simple click of a small metal disc to activate the heat. You can also pop them in the freezer for a cooling sensation.
---

Use this towel to wipe away sweat while you work out and also help detox your body thanks to the charcoal-infused material.
---
While it might be painful, foam rolling does wonders for sore, tight muscles. With regular use, you might even notice your recovery time gets cut down.
---

Help gently relieve tension in your back, shoulders, glutes, and feet with these therapy balls in a smooth and textured material. They're filled with a unique compound that allows them to retain either heat or cold for added sore muscle relief.
---

Use these resistance bands to improve flexibility and get a deeper stretch after and in-between your workouts. You can also use them during your training sessions to increase the difficulty.
---

Relieve knots, reduce lactic acid, and increase circulation throughout your body with this five-piece set, which contains a silicone trigger point ball, deep tissue roller stick, two different foot massagers, and a mini travel foam roller.
xx, The FabFitFun Team