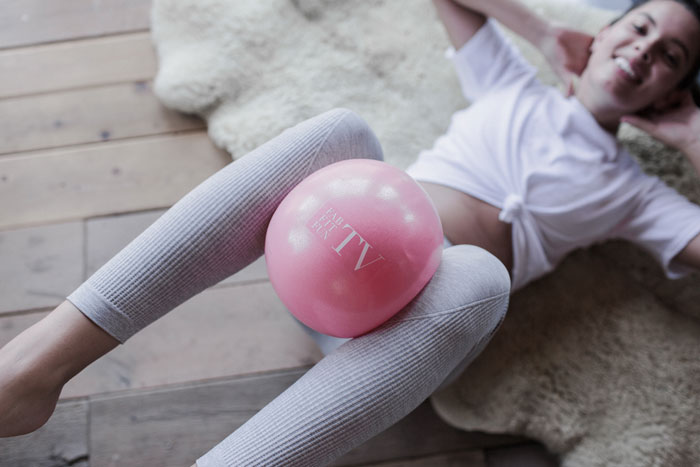 WINTER 2017 BOX PARTNER
With the craziness of the holidays, endless parties, and one-too-many cheat days, we know your workouts take a pretty big hit this time of year — but it doesn't have to.
In fact, you can personalize your workout routine and squeeze in a quick yet effective sweat sesh wherever you are. All you need is FabFitFunTV and the FFFTV Fitness Ball, which is featured in the Winter Box. Not only can you stream FabFitFunTV on your laptop or iPhone, the ball conveniently comes deflated with a straw, plug puller, and insert, making it easy to take on-the-go.
Check out a few of our favorite workouts that incorporate a fitness ball below.
Strengthen your core first to make all of the other moves easier. This intense core-tightening workout may only be 30 minutes long, but it'll leave your tummy feeling extra sore the next morning.
---
Need to squeeze in a quick full-body workout? Check out Lagree® Fitness Studio's 20-minute routine using just the FFFTV Fitness Ball. The butt-kicking routine combines movements to tone and sculpt your arms, chest, abs, and everything in between.
---
Tired of squats? Lift, tuck, and tone your buns with this workout dedicated to perking up your booty. The title says it all — get ready to feel the burn and achieve your dream booty.
---
We told you your core was important. This workout focuses on slower movements to work your mid-core in a safe yet effective way. Trust us, your transverse abdominis and obliques won't know what hit 'em.
Want to see more? Join today and go to FabFitFun.com/TV to get your sweat on!
xx, The FabFitFun Team
P.S. Psst! Have you signed up for the #FabFitFun box yet? Don't miss out on $200+ in amazing beauty, fitness, fashion, and lifestyle products every season. Join today!
To get the most out of your box products, make sure to check out the Insider page.