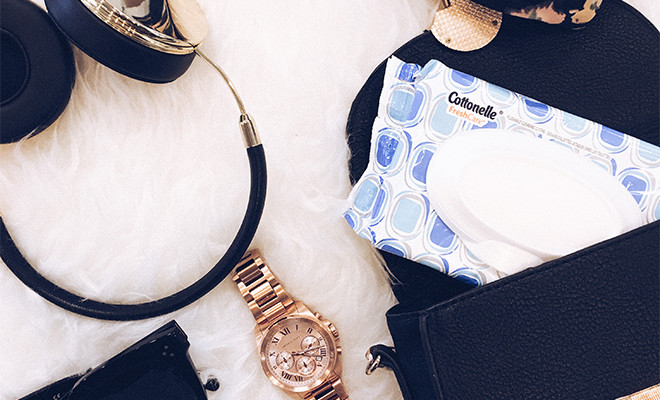 Planning a getaway?
Sounds like a dream come true! While you might not have the time to travel the entire world, you and your girls should definitely schedule a few fall getaways into your calendar.
Check out the goodies we always take with us when we travel:
Spongellé Boxed Flowers-Bulgarian Rose $16
Say no to washcloths. All you need is this buffer sponge infused with body wash that cleanses, exfoliates, and hydrates your skin. You can use it for up to 14 washes, so it should last for your entire trip. Even better? This travel-friendly buffer is a part of the FabFitFun Fall Box. Grab one for yourself now!
---
The Create Co. To-Go Coffee Mug
This mug will definitely save you a couple dollars at the coffee shop. Fill it with coffee or water before you start the day. Plus, it'll boost your morning with simple yet kind words! This mug is available in the FabFitFun Fall Box along with other goodies.
---
My Tagalongs Charger & Cord Case $12
Keep all your cords safe in this pouch that has inner pockets. It's a great place to keep your travel charger, too!
---
Little Minnow Drawstring Travel Bag Set: Pinks $34
Use one bag for shoe storage and use the other to store your dirty clothes. It'll also make packing that much easier, trust us.
---
Cottonelle® Cleansing Cloths with CleanRipple® Texture
Stay fresh and clean always with these flushable cleansing cloths. You never know what emergencies you'll run into, so keep these handy in your purse or carry-on. You'll enjoy a fresh-from-the-shower feeling all day! Grab a sample of these cleansing cloths in your FabFitFun Fall Box.
---
Glossier Universal Balm Dotcom $12
Stow this balm in your carry-on for easy access. Not only is it great for softening chapped lips, you can also use it on dry, irritated patches like your elbows, cuticles, and more.
---
Shiraleah Chicago Preston Fold Cross-Body/Clutch $209
You need to be hands-free to shop for all those souvenirs, duh. Wear this gorgeous tan bag when you're a tourist by day, and change it to a clutch when you're out on the town like a local by night.
---
Savvy Travelers Jet Set Kit $15
This is the ultimate travel kit for the jet setter. This kit includes four deodorant wipes, four lens and screen cleaning wipes, four facial cleansing wipes, and four mouth cleansing wipes — just what you need to freshen up after a long flight! Plus, it's carry-on friendly and complies with all TSA requirements.
---
Deckopedia 50 Must-See Destinations: A Companion Guide to Your Travel Bucket List $19.95
This set of cards will replace all your travel books. Each card has essential information like local activities, budgeting, time spent, and more.
---
My Tagalongs Compact Travel Bottles $10
We love these fun travel bottles. They flatten out the more you use them, so they're the perfect space-savers for your suitcase.
xx, The FabFitFun Team
P.S. Psst! Have you signed up for the #FabFitFun box yet? Don't miss out on $200+ in amazing beauty, fitness, fashion, and lifestyle products every season. Join today!
To get the most out of your box products, make sure to check out the Insider page.