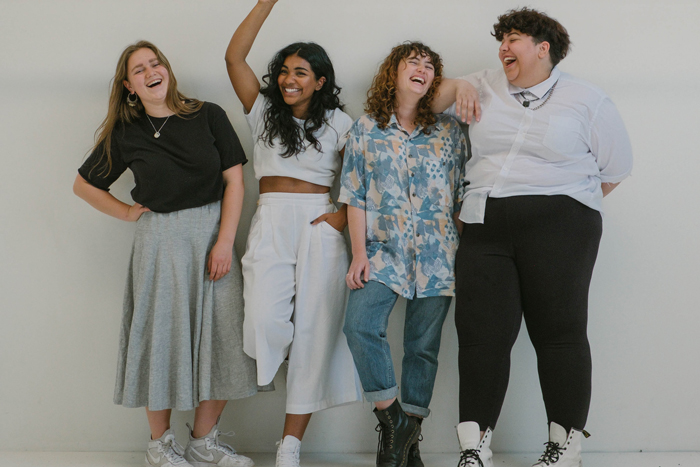 Feature Image by Gemma Chua-Tran
Here at FabFitFun, we're incredibly honored to be able to work with amazing female-founded brands every season. Not only that, but we also get to introduce our members to brands that are making waves for women in their respective industries.
In honor of International Women's Day, we asked the female leads of the Spring Box to drop some words of wisdom and to share the most powerful thing about being a woman.
What does it mean for you to empower women?
"To me, empowering women means encouraging each other's pursuit of happiness. It can be as big as supporting someone's career move or as seemingly minute as validating the way someone feels. I truly believe that showing up for other women is the ultimate way to show you care." — Abby Dubois, founder of EACH Jewels
"Empowering women is more than just giving someone authority or power – it's also about making someone stronger and more confident. Even very small affirmations can go a long way in building confidence and showing that their unique perspective is valued." — Wendy Smith, director of sales of Steel Mill & Co.
"I don't believe as women we need to "be empowered." We hold our strength and power within us. But we need to be invested in, hired, promoted, [and] sponsored in the same way men are. We're simply asking for an equal playing field." — Shiza Shahid, co-founder and co-CEO of Our Place
"To me, empowering women means listening, collaborating, and supporting their goals and dreams." — Kuen Rameson, founder of Gloss Moderne
If I had one piece of wisdom to share, it would be…
"Make mistakes and take risks! It's the only way to grow." — Tamar Wider, owner and creative director of CAMP Collection
"Be yourself, and have fun! Nothing looks as good as a woman that is comfortable in her own skin and who doesn't take herself too seriously." – Joy Dravecky, founder of Joy Dravecky
"Doubt kills more dreams than failure ever will. If you have that something you have always wanted to do — just go do it." — Heather Siu, co-founder and sales director of Lark & Ives
"It's okay to make mistakes. You are enough. I've learned not to beat myself up over little mistakes – learn from them and realize that you don't know it all!" — Noella Gabriel, co-founder and president of ELEMIS
What is the most powerful thing about being a woman?
"Intuition! Go with your gut; it's our superpower. Also, other women. Inspire and empower those around you; we are stronger together." — Wider
"The most powerful part of being a woman is the ability to live life on your own terms. I'm a firm believer in self-expression, and doing what it takes to build the world you want to live in." — Dubois
"Women have a natural tendency to be nurturers and that extends beyond taking care of our families. Where the corporate environment can sometimes seem cold, women tend to lead side by side, which enables ideas and perspectives to flow freely. Using that unique ability to nurture and seeing that positively affect outcomes provides a very satisfying sense of accomplishment!" — Smith
"I think that one of the most powerful parts of being a woman is how many different chapters we have in our life! What we do or who we are isn't dependent on just one of life's seasons! Women are incredibly resilient and it's incredible to see how we can adapt and change and re-create ourselves in new endeavors." – Dravecky
"The most powerful part of being a woman is that you can be both strong and vulnerable, which is beautiful." – Rameson
xx, The FabFitFun Team