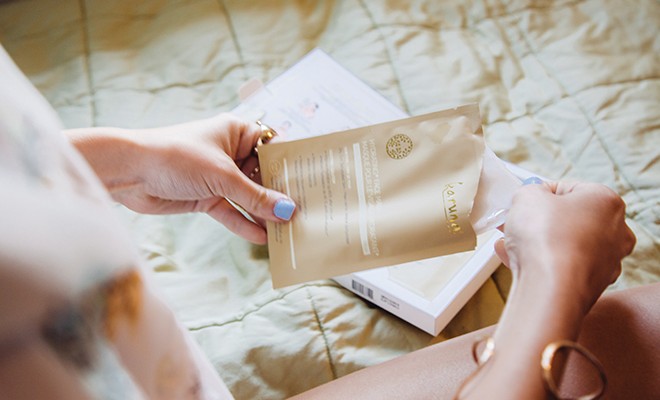 Hydrated skin is happy skin! So don't leave it feeling thirsty because it can lead to dryness, itchiness, and irritation (that's a no-no!).
One way to give your skin an extra boost of moisture? Sheet masks. It's quickly become a beauty favorite as sheet masks are an essential in Korean skin care routines.
Our favorite is the Karuna Hydrating+ Face Mask (featured in the FabFitFun Spring Box) because it uses 100 percent natural wood-pulp fiber so the pores can fully absorb essential nutrients and nourishing ingredients like Chinese licorice, aloe vera, and chamomile — giving you a 40 percent increase in hydrated skin just after 20 minutes!
And lucky for you, the experts at Karuna shared easy hacks on how to get the most out of the sheet masks. Happy masking!
Combat extreme dryness. If you feel like your skin's been feeling exceptionally dry, place the mask packet in a bowl of hot water for three to five minutes before application. The heat will help open up your pores and allow the product to penetrate deeper into the skin.
Disregard the rules. Well, at least when it comes to this mask. Leave the mask on beyond 10 to 20 minutes if you want a more intense treatment. There's nothing wrong with giving the product more time to work its magic!
Calm your sunburn. Store the sheet masks in your fridge for a few hours before applying to irritated skin. You'll instantly feel the cooling effects on your sunburn.
Don't neglect the neck. The first signs of aging show on your neck and your hands so use the leftover product in your mask packet to gently massage it into those areas.
Achieve a flawless canvas for foundation. If you're looking to achieve a more dewy, glowy makeup look, use the mask right before applying foundation.
xx, The FabFitFun Team
P.S. Psst! Have you signed up for the #FabFitFun box yet? Don't miss out on $200+ in amazing beauty, fitness, fashion, and lifestyle products every season. Join today!
To get the most out of your box products, make sure to check out the Insider page.