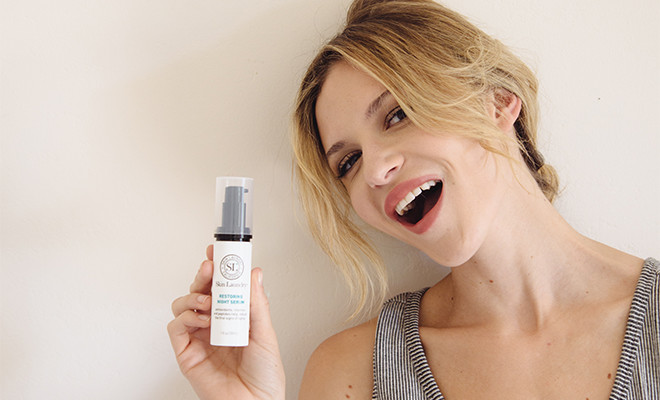 As the crisp breeze sets in, relax and unwind while giving your skin an extra bit of TLC.
Yes, you might start to notice red or dry patches appearing more frequently this time of year, but with a little extra pampering at night — dry skin won't stand a chance. Give yourself time to snuggle in at home and de-stress by following our fall nighttime routine. We promise your mind, body, and soul will feel rejuvenated and refreshed.
Step 1: Take a Bubble Bath
Draw a nice, hot bubble bath to help you relax. Add a few drops of the Mullein & Sparrow Lavender Body Oil into the water and soak in the incredible, soothing scent. Oh, and did we mention this oil is available in your FabFitFun Fall Box?
Step 2: Exfoliate and Cleanse Your Entire Body
Once you've gotten a good soak, it's time to really treat your skin. To keep it looking radiant all throughout the fall and winter, be sure to exfoliate and cleanse with the Spongellé Bulgarian Rose Body Washed Infused Buffer (available in the FabFitFun Fall Box). It's a hypoallergenic sponge that has a time released creamy lather made with extracts of Yuzu, Edelweiss, and Vetiver. You'll feel rejuvenated and your skin will feel silky soft in no time.
Step 3: Remove Your Makeup
Use coconut oil for removing makeup and/or any dirt and grime from the skin. It's packed with moisturizing power!
Step 4: Wash Your Face
Use a gentle cleanser during fall. We opt for Juice Beauty Cleansing Milk because it's great for all skin types.
Step 5: Use a Facial Serum
Now that your face is squeaky clean, it's time to go in with the serum. Are you starting to notice a theme here? Fall is all about keeping your skin hydrated! There's no better way to keep your skin bright and conditioned than by using Skin Laundry Restoring Night Serum before bed. This handy dandy overnight treatment is also available in the FabFitFun Fall Box! Then apply some moisturizer to your face.
Step 6: Really Condition Any Dry Areas
If your skin is being extra stubborn (which can happen to the best of us), then go in with concentrated moisturizing. We recommend using a balm with essential oils and applying it anywhere you please like your cuticles, elbows, and lips to really combat any overly dry areas.
Step 7: Relax With a Cup of Tea
Curl up with a nice cup of warm tea in your The Created Co. To-Go Coffee Mug (available in the FabFitFun Fall Box). We like sipping on green tea or jasmine tea because it's full of antioxidants.
xx, The FabFitFun Team
P.S. Psst! Have you signed up for the #FabFitFun box yet? Don't miss out on $200+ in amazing beauty, fitness, fashion, and lifestyle products every season. Join today!
To get the most out of your box products, make sure to check out the Insider page.