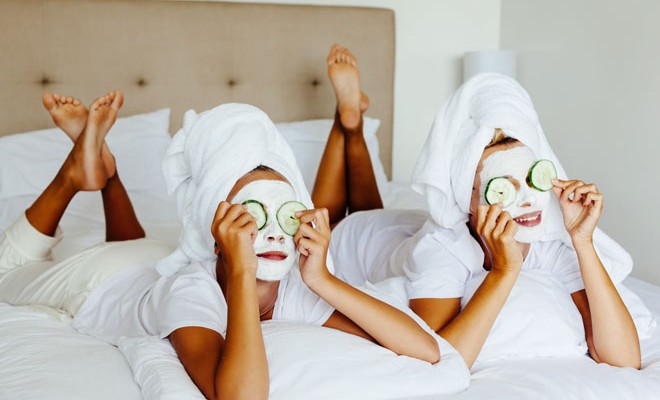 First time getting a facial and don't know what to expect? No worries, we're practically pros when it comes to getting facial treatments. Whether you're going in for a quick facial massage or going all in for extractions, here are some things to know before scheduling an appointment.
Give yourself some time before a major event
Depending on the type, facials can sometimes make your skin look worse before it gets better. This is especially true when you're undergoing extractions. Whether your esthetician is extracting white heads, milia, or blackheads, the next day your skin may look inflamed, and you may experience additional breakouts that were living under the skin that start to surface. After a facial your toxins are being released from the skin, so often times your skin may become irritated. Don't worry though — by the third or fourth day your skin will clear up and you'll have a fresh new, smooth textured face.
Other facials are much less invasive, and include deep facial massage to drain the lymph and release toxins. Depending on your skin type, the esthetician may decide to not extract anything but instead, give a deeply hydrating mask to make your skin glow and look radiant. These types of facials are great right before a special day, as your skin will not be as inflamed, but instead will appear youthful and glowing.
Avoid using retinols three weeks prior to getting a facial
Many retinol treatments cause your skin to become thinner and increase the risk of damage due to the skin's increased sensitivity levels. If you want your esthetician to not be limited while treating your face, then avoid these products for a few weeks to be sure your skin has had time to be in its most durable and natural state. This way you'll reap all the benefits of your facial.
Don't get facial waxing or hair removal services before facial treatments
Similar to the above recommendation, waxing, tweezing, laser, or threading hair removal services irritate the skin, so getting a facial that would include some exfoliation processes and extractions would possibly damage the skin further. We recommend going in for facial on an evening after work when your skin hasn't been tampered with in a while.
There's an upkeep
Just like working out once won't make you fit, getting one facial won't miraculously change your skin permanently. There may be some immediate glow to the skin of course, but if you're not going every six weeks, you won't be able to see long term results.
xx, The FabFitFun Team