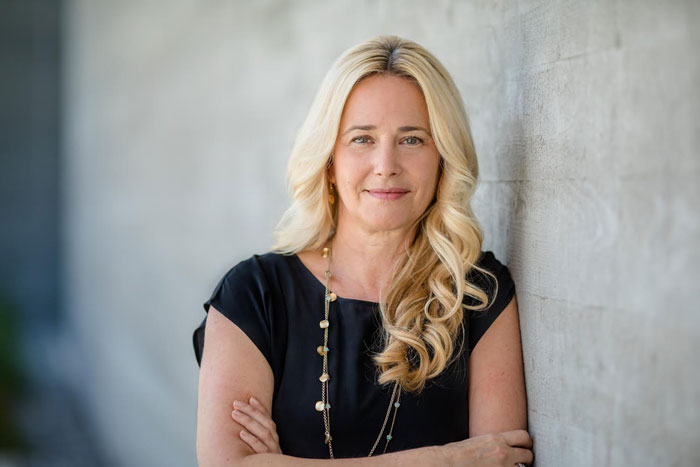 With the "new year, new me" mantra in full swing, there's no better time than now to get the ball rolling on your fitness and health goals for 2018 — and Lorna Borenstein, founder and CEO of Grokker, is here to help jumpstart your new and improved wellness journey.
As a former Silicon Valley exec (she's worked at Yahoo!, eBay, and HP) and busy working mom, Borenstein founded the health empire with one goal in mind: to create a global community of like-minded individuals who are working together to better their health both physically and mentally. She also saw the need for a flexible wellness program that could be accessed from anywhere at any time, thus Grokker was born.
Grokker now offers the widest variety of at-home workouts including yoga, pilates, dance cardio, meditation, cooking, and more. So whether you want to sweat it out, de-stress, or whip up a healthy meal, you'll find what you need.
Plus, you can now access Grokker's exclusive content on FabFitFunTV. From a 30-minute cardio workout to a seven-minute ab burn, here's why Grokker is about to be your go-to source for a #NewYearNewYou.
Widest variety of at-home workouts
Quick five-minute core burn? Check. 30-minute dance cardio? Check. With Grokker's 14-day free trial, you can access a library of over 4,000 videos across fitness, yoga, mindfulness, and nutrition that cater to every level, whether you're a beginner or a seasoned pro. Or you can head on over to FabFitFunTV now and enjoy 10 of their member-exclusive videos.
It's like having a personal trainer on-the-go
It's hard to stay on top of your fitness goals when work or family constantly pulls you in different directions. Well, with Grokker, you can work out with some of the world's fitness elite whenever and wherever you are. Simply access the videos on Grokker.com or on FabFitFun.com/TV to start sweatin'.
Holistic approach to wellness
Grokker wants to make healthy-living fun again. With the understanding that it's not always easy to get to the gym or a workout class, they make sure each expert brings something unique to the table to encourage and inspire users at every point of their journey.
Want to join in on the fun? Join Grokker's free 30-day challenge to make 2018 your best year yet.
xx, The FabFitFun Team