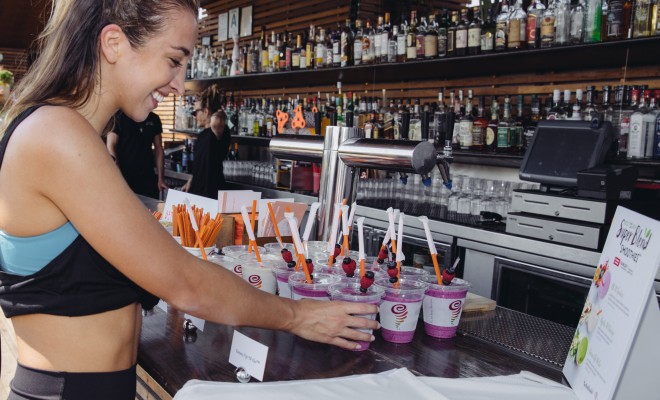 Getting fit just got a lot more fab (and a lot more fun!) Yep, this season we launched FabFitFun TV, an online channel exclusively available to FabFitFun members featuring workout videos from the world's fitness elite! We're talking Body By Simone, Burn 60, Christine Bullock, Fit Strong and Sexy, FXP Fitness, Katie Austin, Physique 57, Step it Up With Steph, YAS Fitness, and YogaWorks — all at your fingertips.
So, of course, this launch was cause for a major celebration! Jamba Juice helped us host an epic party featuring a workout with legendary Simone De La Rue of Body By Simone on the rooftop of E.P. & L.P. in Los Angeles. Oh, and if that view wasn't pretty enough, Empty Vase provided us with some gorge floral arrangements. (Seriously, you couldn't ask for a better way to get your sweat sesh on.)
From 2012 Olympic Gold Medalist, Jordyn Wieber to fitness gurus Alexa Jean Brown and Remi Ishizuka, tons of our fave ladies came out to join the party and show off their moves.
Of course, after the workout, some energizing (and mouthwatering) goodies from Jamba Juice were served. Guests were some of the first to try the new Chia Seed Pudding Bowls, along with delicious Super Blends Smoothies. In fact, celebrity trainer, Harley Pasternak, who collaborated with Jamba Juice on the smoothies (Apples 'N Charge, PB 'N Jealous, and Green Up 'N Go) joined the party to demonstrate why blending is better!
After mingling, chatting, and cooling down, guests left with gift bags filled to the brim with goodies. Each LeSportsac bag contained items from: Katie Austin, Sweat Cosmetics, Bio Ionic, Jamba Juice, RealHer Makeup, Cargo Cosmetics, RXBAR, ISH, YES TO,  Capri Blue Candles,  YogaWorks,  Moon and Lola, Kopari Beauty, Kris Nations, Not Your Mother's, LATHER, Burn 60, MYTAGALONGS, Soko Glam, Natural Life, Step It Up With Steph, Fig and Yarrow, Cocokind, Hippeas, Purely Elizabeth, Tri-Coastal Design, Stay Well Kept,  Verday Water, Patchology, Pevonia, Fit Strong and Sexy, PARFAIT, Skin Laundry, INKED by dani, Davids Natural Toothpaste, Pixi Beauty, KAYO,  evian Facial Spray, Marquis, Christine Bullock, FXP Fitness, Julep,  Pasta Chips, *hype, Kleenex,  CORE Hydration, Pointe Studio, EVERPRO, Sugar Paper, YAS Fitness, Sterling Forever, NYX Cosmetics, Unwash, Agave Healing Oil, S.W. Basics,  ORMANA, Stemulation,  Kerstin Florian,  and A Complete.
It's a good thing the girls from So You Think You Can Dance worked out, because carrying these babies required serious muscle power!
xx, The FabFitFun Team