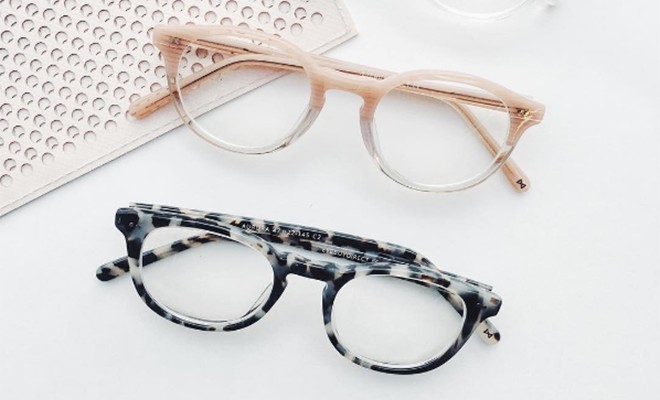 @laurencaruso_
Between office work, scrolling through Insta, and binge-watching new releases on Netflix, we spend a lot of time in front of digital screens. One study showed that Americans clock over 10.5 hours of daily media consumption — that's nearly half of the day!
However, too much screen time will harm your eyes. Blue light emitted from screens cause digital eye strain which is the physical discomfort felt after a few hours spent in front of a computer or smartphone. Symptoms include dry, irritated eyes, blurred vision, eye fatigue, and even headaches.
Luckily, an increasing number of protective and stylish frames have hit the market which formulate eyeglasses with anti-reflective coating and customized lenses to reduce screen glare and counter digital eye strain. Those with or without prescription can order glasses with blue light protection! Check out some of our fave picks below:
Phonetic Computer Eyewear Grant $59
This pair will make you look oh-so chic while protecting your eyes as you stalk your fave fashion bloggers. Phonetic Computer Eyewear offers Blue Light Protection with all selections — so get your hands on more than one pair.
---
EyeBuyDirect RFLKT Aura in Havana Tortoise $70
Look like a sassy #girlboss in these gorgeous tortoise frames. EyeBuyDirect offers a special patented lens called EBD Blue which is infused with blue cut technology and covered by enhanced UV-protective, anti-scratch, and anti-reflective coatings. Plus, frames start as low as $6.
---
See Concept Screen D Glasses in Black $65
Slip on these frames and you'll instantly feel artsy and sophisticated. Not only that, you'll protect your eyes from light emitted from your phone and computer — which will ultimately help you sleep better and reduce fatigue.
---
Felix Gray Turing in Amber Toffee $95
We love these unisex frames! The Amber Toffee shade is a perfect complement to fall and all your sweaters. You have the option to add a blue light filter to the lenses — which we highly recommend.
---
JINS LMF-15A-300 in Golden Nugget $100
We're obsessed with vintage trends! This bold gold pair is especially a frame we'd like to rock this season. The JINS Screen Night lens blocks out 60% of eye strain-causing blue light. Fashionable and functional? We're in!
xx, The FabFitFun Team