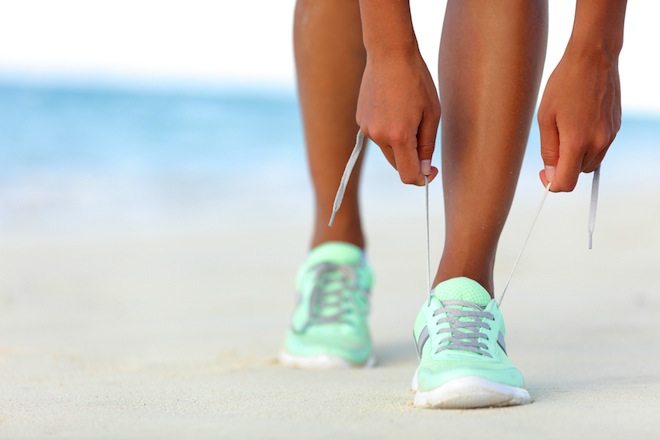 It's summer! Take your indoor workouts outside because let's face it — working out in the gym while your friends are at the beach is never fun.
Turn your beach trips into a quick and easy sweat sesh with the workouts below! They're our fave way to burn a few extra cals while having some fun in the sun.
Sand Volleyball
Whether you're a volleyball player or not, this is a fun team sport to get in on. This workout will burn major calories all while hanging out with your friends. Wear your bikini and get a sun tan while you're at it!
Smash Ball
Who said ping pong is only an indoor workout? Grab a smash ball set, a partner, and head straight to the sand for a quick arm and leg workout. As you prep and lunge your body to swing at the ball, you'll quickly get in a nice toning and tan sesh.
Run on the Beach
Skip the pavement and take your walks or jogs to the sand. It may be tougher, but it certainly is a better workout for your legs and booty. A simple mile on the beach and then a dip in the ocean is the perfect summer workout.
Flying a Kite
Playing with the kiddos? Take your kite to the beach and run along with it as the wind blows! This fun and playful activity is a serious calorie burner. Want to take it to the next level? Throw in some squats and lunges as you fly the kite — you'll have yourself one major booty workout.
Boogie Boarding
You don't have to stay on the sand to give your bod a workout. If you prefer to be in the water, then strap on your boogie board and start riding those waves. Not only are you swimming, which is an all body workout, but staying on the board is also great for practicing balance. For an extra burn, flex your abs as you ride the waves.
Wiffle Ball
Tanning with a group of friends? Wiffle ball is a great activity to bring to the beach and it's also a killer workout. Running from base to base in the sand will have you feeling the burn the next day. Just try your best not to get three strikes, or there may be no workout!
xx, The FabFitFun Team