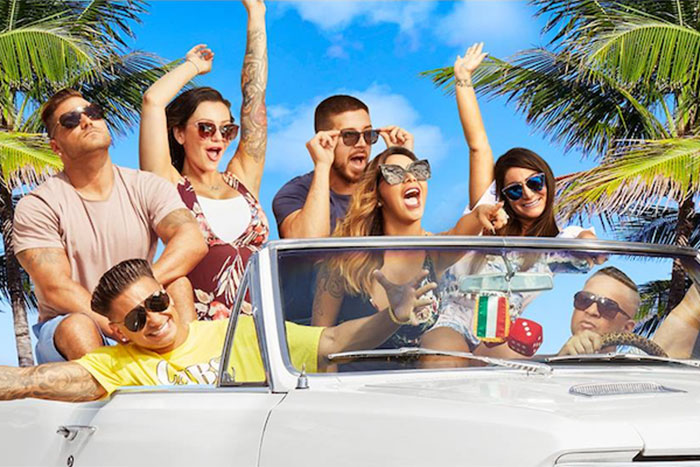 SPONSORED BY MTV
Aw, yeah, Jersey Shore, yeah! Yep, the highly-addicting and binge-worthy reality TV show, Jersey Shore, is back on April 5 on MTV with your favorite cast members including Snooki, JWOWW, Deena, Pauly D, Vinny, Ronnie, and The Situation.
And, of course, we're predicting a lot more GTL (gym, tan, laundry), fist pumping, and meatballs in Miami, Florida. While we patiently wait for the reunion series, Jersey Shore Family Vacation, to air on April 5, here are five things we're anticipating for the premiere!
Their Miami pad
Who wants a tour of the new pad? We do! Of course, a Jersey Shore pad isn't complete without a jacuzzi, a phone station, and possibly…a smush room? Check out the house tour video for a behind-the-scenes look.
Pauly D is the only single one on the show
The DJ is the only official bachelor on the show, so we can definitely expect to see him on the hunt for Miami ladies. Who knows? Maybe he'll bring home a few grenades.
Our fave duo Snooki & JWoww
Can you say #friendshipgoals? We can't wait to see what shenanigans the fan-favorite duo will get into. Let's just say that they won't be any less wild just because they're moms.
A cameo from Angelina
We're bummed that a couple of previous cast members won't be returning to the show, but we saw a glimpse of Angelina in a preview when the Situation opened the door to find Angelina saying, "You think I'm a dirty little hamster?" More on that to come…
T-shirt time, GTL, and fist pumping
Will the boys come together for "t-shirt time?" Because let's be honest…we kind of miss hearing them sing the words. We're also probably going to see a lot of GTL and fist pumping because that's what made Jersey Shore, Jersey Shore.
What are you most excited about for Jersey Shore Family Vacation? Let us know in the comments below!
xx, The FabFitFun Team