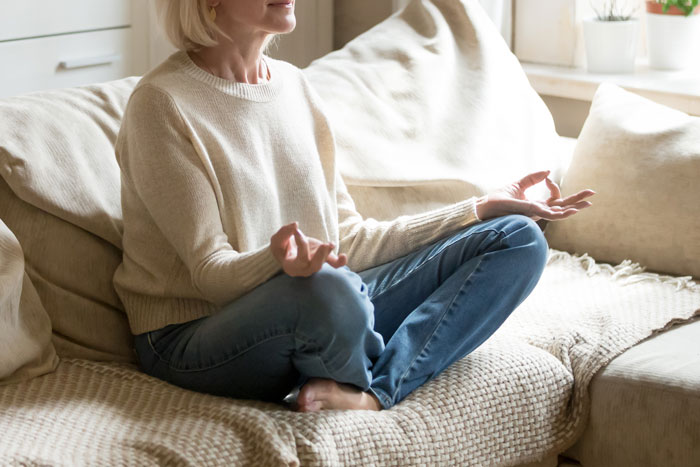 Meditation, which is the practice of mindfulness accompanied by deep breathing, has become quite the trendy pastime in 2019. While you might assume that it's reserved for yogis and health gurus, everyone can benefit from setting aside a few minutes every day to reflect and reset.
If you're not quite sold on the calming mindfulness practice, perhaps learning about how easy yet effective mediation can be will change your mind. Sarah Romotsky, the director of health care at Headspace, a cult-favorite meditation app, is sharing everything you should know below.
What are the common misconceptions of meditation?
"There is a misperception that meditation can only be practiced in one particular way, but in reality, meditation and mindfulness can be fit into any lifestyle," Romotsky says. "The formal practice of meditation includes sitting with your eyes closed, no cushion or leg crossing required! However, the techniques we are learning and practicing in meditation are mindfulness techniques that can be incorporated into our life at any time. For example, you can integrate mindfulness into exercise, eating, and even during your commute."
How long do you need to meditate for it to actually be effective?
"We conducted a study that showed that Headspace can reduce stress in just 10 minutes a day for 10 days," says Romotsky. "The most important thing about a meditation routine is to be consistent as the benefits build over time. Start with a small, measurable, achievable goal for yourself (example: I'm going to meditate three times a week for 10 minutes at a time)."
How can you make meditation a simple part of your day?
"Try attaching meditation to an event that you already do like brushing your teeth or taking a shower," suggests Romotsky. "That way, this event can serve as a trigger and reminder for you to meditate."
What's the best way to get the most out of meditation?
"Try to remember that meditation is a practice, and it doesn't have to be perfect," Romotsky advises. "In fact, there is no such thing as a perfect meditation. Sometimes your focus will wander or you'll forget to follow your breath, but all of this is completely normal and part of the experience."
xx, The FabFitFun Team
Want to try meditating but don't know where to start? Try these 11 meditation podcasts to help with anxiety.