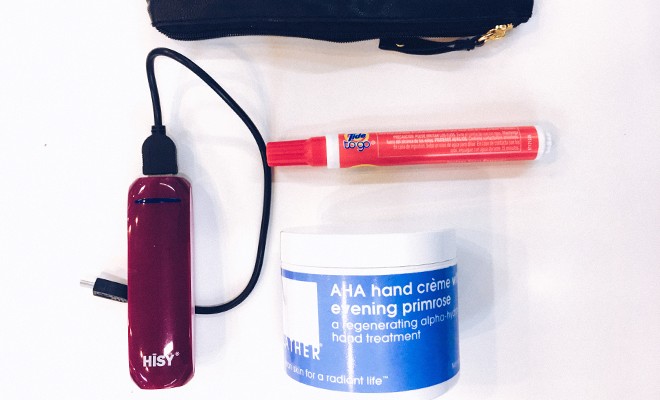 We've all had those moments where we spilled coffee on our new blouse or our phone ran out of battery and we thought, "Man, I wish I had that with me." Most times, we don't even anticipate needing certain products for on-the-go emergencies.
Luckily, we put together a list of products so you can create a mini emergency kit for when those unwanted moments occurs. Keep this kit in your car or purse for easy access!
HISY "Reactivate" Portable Power Bank Battery $18
Let's be real — more often than not, our phones are usually on the brink of dying. If you're an avid phone user, be sure to bring this with you, along with your phone's charging cable. It holds a full charge and is small enough to take anywhere! Lucky for you, this is available in our Welcome Box V.2 along with other goodies, so grab one today!
---
LATHER AHA Hand Creme $18
Dry hands are the worst! Give your hands some TLC with adorable and moisturizing hand creams. You can use these for your body, too, if you forget to moisturize at home! This essential is also available in the Welcome Box V.2.
---
Tide to Go Stain Remover Pen $5.99
It happens. You're driving to work, take a sip of your morning coffee, and then you suddenly have to brake…there goes your adorable pastel pink top. But it doesn't have to ruin your outfit! Carry this pen around with you to cover up any mishap.
---
Hot Tools 2″ Bobby Pins $2.49
There's nothing like a hair emergency. Keep an ample supply of these in your kit for those moments your hair is just not cooperating. Secure some bobby pins on hair ties so you can have those on hand, too. Trust us, you never know when you'll need a bobby pin.
---
Violife Slim Sonic Classic Electric Toothbrush $15.95
It might seem a little strange, but think about it. Not only does it come in handy for post-tuna salad lunches, but it's also an essential for nights out. If you decide to crash at your friend's place after a few too many margaritas, a toothbrush is so necessary — so always have one on hand! Also, this one is super cute and great for travel.
---
Pacifica Roll On Perfume in Island Vanilla $12
Feeling a little, uh, smelly? Whether you just finished a workout and have to go straight to an appointment, or it's just a particularly warm day, perfume can be extremely useful. Plus, who doesn't like the smell of vanilla?
---
ban.do Carryall Duo $10
You need to keep all your emergency items in one easy-to-access pouch! We recommend this incredibly cute carryall duo which is big enough to keep all your items in one place yet small enough to store in your car's dashboard.
---
Clean & Clear Oil Absorbing Sheets $4.99
Nobody likes an oily face. If you don't have time to freshen up before a date or big interview, use these oil blotting sheets. They don't smudge makeup and instantly remove excess oil — a must-have for any beauty emergency!
---
Yes To Coconuts Naturally Smooth Lip Balm $2.99
Keep your peckers moist and never flaky with this natural lip balm! If you ever feel like your lips are lacking in color or look plain dull, this balm will shine them up and help them look fuller.
xx, The FabFitFun Team
P.S. Psst! Have you signed up for the #FabFitFun box yet? Don't miss out on $200+ in amazing beauty, fitness, fashion, and lifestyle products every season. Join today!
To get the most out of your box products, make sure to check out the Insider page.