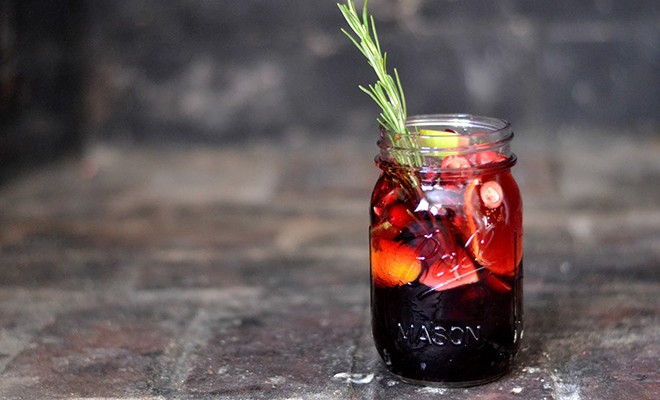 bakeaholicmama.com
As we move rapidly through fall, the inevitable holiday planning begins. From presents to delicious dishes, there's a lot to think about. Our favorite part to plan? Holiday parties.
With every party comes some interaction with alcohol, and even the most seasoned drinkers can get swept off of their feet (or knocked to the floor) by a delicious homemade punch. Here are our favorite drinks that will keep everyone, especially the lightweights, feeling great all night.
Pumpkin Beertail with Tequila and Spiced Rum
Celebrate the flavor of the season with a delicious pumpkin beertail. While this drink might seem like a lot, you can easily adjust the proportions of this festive cocktail to your liking (and limit).
---
Bourbon Spiked Hot Chocolate
Oh, the weather outside is frightful, but hot cocoa is quite delightful. Give yours a little kick by spiking it with as much or as little bourbon as you want.
---
Cranberry Mimosa
Take your favorite brunch drink and give it the holiday twist you never knew you were missing out on. Add more juice than wine to keep you on your feet — plus you're getting much needed vitamins with every sip!
---
Winter Sangria
Carry your favorite summery drink into winter by adding a few seasonal flavors into the mix. Scale back on the vino or add more of the other non-alcoholic ingredients to accommodate even the lightest of lightweights.
---
Light Cranberry Hot Toddy
This low-cal drink is perfect for those who aren't looking to gain any pounds or a pounding headache the next morning. The recipe calls for just a dash of rum, ensuring that you'll make it on time to work the next morning.
---
Christmas Rum Punch
Don't just sip this on December 25th — this recipe should be enjoyed all season long. Limit yourself to just two servings to get the holiday flavors you want. A little goes a long way!
---
Pomegranate Mojito
This pomegranate take on our minty fave kicks other mojitos out of the park. The recipe calls for only an ounce of rum and 1/2 cup of champagne, making this cocktail your go-to at every holiday party.
xx, The FabFitFun Team