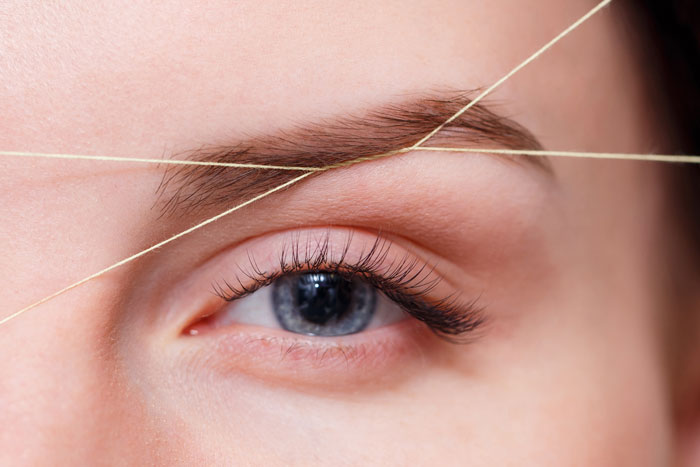 SPONSORED BY FLYBROW
We've all experienced unfortunate mishaps in an attempt to achieve perfectly groomed brows. But how exactly do you achieve the right brow shape for your face? And what can you do at home to maintain your brows in between salon visits?
We chatted with Suzie Moldavon, Lead Flygirl and CEO of Flybrow, about all of the do's and don'ts of eyebrow maintenance.
Determine a shape that's right for you
Do you like a thin, sharp arch? Or full, straight brows? Whatever shape you prefer, there are a few things to consider first. Rather than using the edges of your nose as a guide, Moldovan suggests using the bridge instead as it'll help your nose look taller and frame your face better. Moldovan also recommends filling in your brows first to avoid overplucking. When in doubt, stay true to your natural brow shape!
Have the right tools
It takes more than just a good pair of tweezers to get the brows of your dreams. Moldavon says every woman should have a good pair of tweezers, a straight-edge scissor (not round nail scissors), and a spoolie to brush out brow hairs and soften the color of brow products for a more natural look.
Find your go-to product
From shape and thickness to color and length, everyone's brows are unique, so it's important to find the brow product that works best for you. Moldavon recommends Glossier's Boy Brow for fuller brows because it's like a "hairspray for your brows" and pencils like the ISH All-in-One Brow Pencil or the Anastasia Beverly Hills Brow Wiz if you need more definition.
Understand your options
There are different benefits to waxing, tweezing, and threading. Moldavon says that tweezing is the cleanest option while waxing is the most exact, so combining the two is best when reshaping your brows. Threading, on the other hand, isn't as precise but is long-lasting and less time-consuming. Try experimenting with all three to determine what you like best.
Don't freak out
If you've butchered your eyebrows by overplucking, there are measures you can take to hide the damage. Try using a gel pot and thin brush to lightly draw tiny hairs in the spots that need it. Don't forget to use the bridge of your nose and your index finger as a measurement when plucking in between your brows!
xx, The FabFitFun Team
P.S. If you're in the Los Angeles or San Francisco area, check out Flybrow to receive a professional brow grooming service right at home!