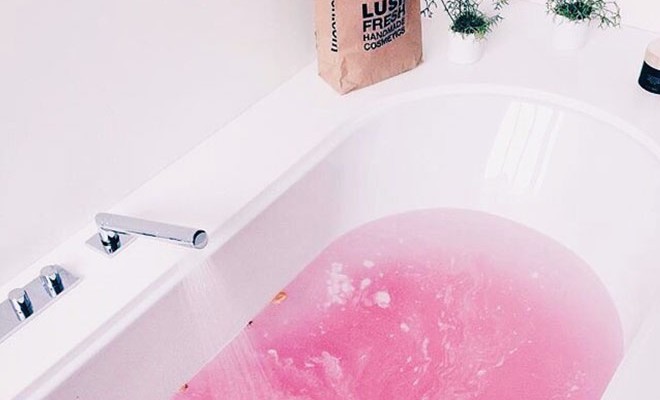 @lushcosmetics
With sweater weather creeping up, it's only right that we spend more time soaking in a hot bath than usual. Luckily, Lush has given their fan favorite bath products a Halloween-ready makeover to ooze all the fall vibes.
The collection will be available to shop online beginning September 15 and will hit Lush shelves September 18. Meanwhile, below is a sneak peek at what's to come.
Lush Bewitched Bubble Bar $7.95
This feline fine bubble bar reminds us of the charcoal beauty trend. It's infused with olibanum oil for a sweet and woodsy scent and bergamot oil for an uplifting and cleansing effect.
---
Lush Pumpkin Bath Bomb $7.75
Fall and pumpkins pretty much come hand in hand, so why not throw a bit into your bath? This bath bomb features cinnamon bark oil, pimento berry oil, and vanilla for a soothing blend.
---
Lush Monster's Ball Bath Bomb $7.95
Lime, neroli, and olibanum oils make up this Franken-fine bath bomb that not only helps you unwind after a long day, but also creates a gorgeous pink hue in your bath.
---
Lush Lord of Misrule Shower Cream $9.95
Don't let the vibrant green spook you. The herbal blend of black pepper oil, patchouli, wheat germ, and vanilla lathers perfectly and is a nice treat for your senses.
---
Lush Black Rose Naked Lip Scrub $6.95
Perfect your pout with a gentle lip scrub. The caster sugar gently exfoliates dead skin, while the murumuru butter and mandarin oil leave your lips fresh and moisturized.
---
Lush Goth Fairy Shimmer Bar $7.95
Shimmer fans are in for a gothic treat with this iridescent bar. It's jam-packed with bergamot oil, illipe butter, almond essential oils, and grapefruit oil for a skin-softening blend.
---
Lush Black Rose Lip Tint $10.95
If you needed another reason to jump on the charcoal beauty trend, this lip tint might be enough to convert you. The black lip balm transforms into a bright pink tint when applied. It's also formulated with melon, mandarin, and ylang ylang oils for a nourishing yet brightening finish.
---
Lush Magic Wand Soap $6.95
Rock fall's best colors in your bath with this beautifully scented soap. The citrus and coconut oils work harmoniously to balance out the best of both fragrances.
---
Lush Sparkly Pumpkin Bubble Bar $7.95
Lime, juniper berry, and grapefruit oils create a scent you wouldn't normally expect from a pumpkin-shaped bubble bar. Nonetheless, the bright orange and gold flecks make this 100 percent fall appropriate.
---
Lush Pumpkin Bubble Bar $7.95
Who says bubble baths are only for kids? This one's in an adorable pink and formulated with geranium, bergamot, and jasmine oils for a relaxing pamper sesh.
xx, The FabFitFun Team