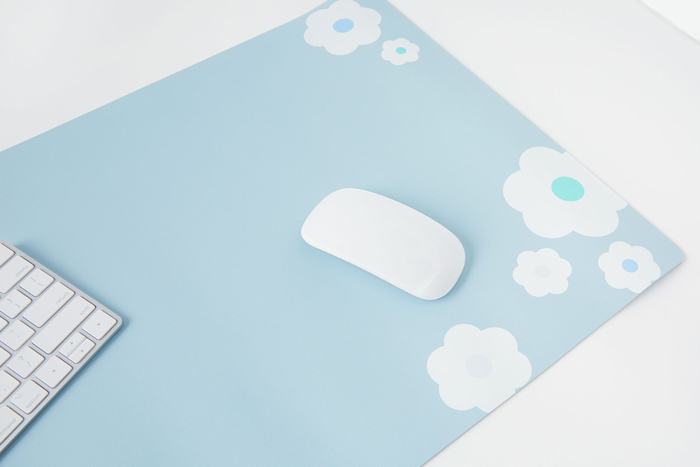 It's crazy to think about the fact that the majority of us have been working remotely for a year now, and as we've seen all around us, it doesn't appear to be ending anytime soon.
If you're one of those who get to attend Zoom calls with blazers on top and pajamas on the bottom, this is for you. We're refreshing our current work-from-home space with adorable products that make writing out a to-do list, organizing your desk, and taking notes from your boss an enjoyable task.
These office products plus more in fashion, beauty, and tech are available to shop in the Spring Edit Sale! The sale opens to Annual Members on Thursday, April 1 and Seasonal Members on Thursday, April 8 at 9 a.m. PT. Not a member yet? Use code FLORALS at checkout for 20% off your first box and to access the members-only sale.
Brighten up (and protect) your desk with this large desk pad. It comes in a calming soft blue with adorable flowers, perfect for catching those spring vibes while working hard from nine to five.
---
Keep it coordinated and cute when you add this cute daisy mouse pad into your mix of desk accessories, perfect for when you want to switch up your workstation location.
---
This is not your average pencil holder. This abstract-style pencil holder will add some dimension to your desk while also keeping your favorite writing utensils all in one place.
---
If you've accumulated more than your fair share of paperclips, this one's for you. Keep all your clips, tacks, and notetaking accessories in one place with this stackable organizer.
---
Jot down your important meetings, appointments, and to-do lists on this nautical-inspired, weekly calendar from Lilly Pulitzer.
---
Perfect for summer and spring! Take note of your big and brightest ideas in this notebook from Lilly Pulitzer.
---
Thank your colleague for their help on a big project, or send love to coworkers from afar with this stationery set riddled with the cutest cacti.
---
We love this stationery set because it reminds us of some of our favorite things like summer days, music, flowers, and avocado toast.
---
Remind yourself to relax and breathe, even on those long and tough days. Seem to forget? You can write yourself a quick reminder with this note and pen set.
xx, The FabFitFun Team