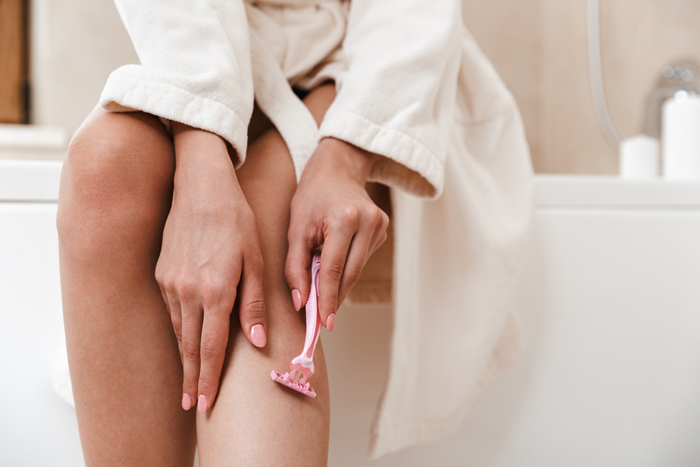 Skin chafing is uncomfortable at best and straight up painful at worst, and it's a common condition that most of us experience from time to time.
"Friction is the cause of most all chafing," Dr. Julie Karen, a board-certified dermatologist from CompleteSkinMD explains. "Chafing will always be worse when the frequency or extent of rubbing is greater, be it skin on skin or skin on your clothes."
Knowing when you're most likely to experience chafing is the first step in making sure it doesn't happen, so read on for five common causes of chafing and how best to avoid it.
Your skin is too dry
Chafing is more likely to happen when your skin isn't properly moisturized, so use a restorative balm on the regular to keep dryness at bay. "My favorite product without a doubt is Dr. Rogers RESTORE® Healing Balm," Dr. Karen notes. "It's an all-natural skin protectant comprised exclusively of two plant-based ingredients, castor bean oil, and glycerin. It protects your skin with an impaired barrier and moisturizes and repairs damaged or chafed skin. It's a rescue balm and truly miraculous!"
You're shaving without the right products
According to Dr. Karen, using the right products to create moisture can help you avoid extra chafing when you shave. Make sure to lavish your most sensitive areas with a cream that protects and heals. The eos Lavender Jasmine Shave Cream has natural conditioning oils, antioxidants, and shea butter to help soothe your skin for up to 24 hours after you apply it. Even more, it has added skin protectants to help prevent bumps and nicks while you shave.
Your clothes are too tight
Your favorite jeans might look best when it comes right out of the dryer and fits nice and tight, but Dr. Karen suggests avoiding overly tight, restrictive, or scratchy fabric. "Skin chafing can easily occur from overly tight, ill-fit, rough fabric," she says. If you need to wear form-fitting fabric for a workout, Dr. Karen recommends Udderly Smooth as an anti-chafing balm that works to repair painful and broken skin without a greasy feel.
You're kissing someone with scruff
Love your partner's five o'clock shadow or seeing him with a little extra scruff? We get it! Just know that kissing for an extended period of time or rubbing up against stubble can cause chafing on your face.
You're doing a lot of repetitive motion
Runners, dancers, or anyone who performs repetitive motion for exercise is more likely to experience skin chafing. "With runners specifically, long races often result in chafing from the repetitive motion that causes rubbing, like in the armpit," Dr. Karen says. She also notes that Body Glide is a game-changer for longer runs. "Apply it beneath your sports bra or any other places where you want to prevent rubbing, including your feet," she says.
Looking for more skin-saving products? These March beauty launches came just in time for spring.
xx, The FabFitFun Team