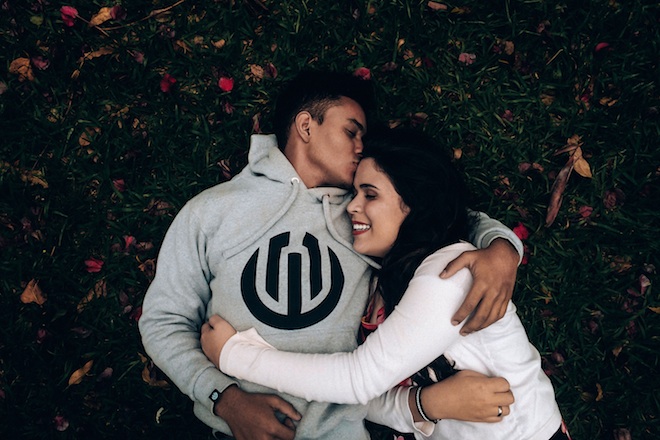 joaosilas/Unsplash
Date nights are some of the best nights…but not when you're running low on cash. Lucky for you, spending time with your boo doesn't necessarily mean it's going to put a dent in your wallet every time.
These activities will cost little to no money and will keep you and your partner entertained all fall long. Now, who's ready to enjoy some quality time with their S.O. without spending a dime? Yep, we thought so!
Go on a Picnic
Break out whatever is in the fridge and take an impromptu picnic. Grab a blanket, that bottle of wine you've always got on hand and get outside! A picnic will provide good food and quality time…the best part? You save a lot of money.
Take a Hike
The seasons are changing so that means it's time to dig out the flannel shirts from the back of your closet and frolic in the great outdoors. Go on a romantic hike with your loved one and admire all of the gorgeous foliage.
Have a Staycation
If you and your man would rather Netflix and chill, that's totally OK, too. Dates definitely don't have to be formal. No pants and binge-watching is just what a relationship needs from time to time.
Adventure in Your Town
If there's an area of town that you're not familiar with or a little café you've never been to, what are you waiting for? Get out and explore with your S.O. because even places you're familiar with can show you something new.
Have a Pampering Session
Instead of the "dinner and a movie" routine, why don't you make a new tradition of  "wine and foot rubs." Grab the lotion and prepare to relax with the one you love.
Sit Around a Campfire
The ingredients for s'mores won't cost you much so drop by the grocery store and get ready to roast some marshmallows over an open flame. Hot chocolate, your love interest, and an ooey gooey chocolate treat? Sounds like the perfect way to spend a fall night!
Get Crafty
When your S.O. comes over, break out the adult coloring books and colored pencils. Getting creative can be a fun (and affordable) way to let loose and spend quality time together. There's an adult coloring book in the FabFitFun Fall Box, so when you want to stay in on a Friday night, we're here to help you do it just right!
Visit a Museum
Going to a museum may cost an admission fee, but that's the only time you'll need to spend cash. A night spent taking in art together is sure to be entertaining!
Plan a Game Night 
Whether you're into board games or watching sports, there's nothing better than a game night. It doesn't matter if you're on the same team or rooting against each other — bring out your competitive side for a nice change of pace.
Go to a Food Market
Take your date to a food market full of free samples. It'll be fun to walk around and try new foods together — and it won't cost you a thing.
Organize an At-Home Cooking Class
Cooking classes can definitely be fun, but they're also pricey. So create your own cooking class at home! Have your date select a dish they love to prepare and let them show you how it's done. Then you teach them a thing or two next week. It's a nice change of pace to eat in and there's no better way to bond than with good food.
xx, The FabFitFun Team