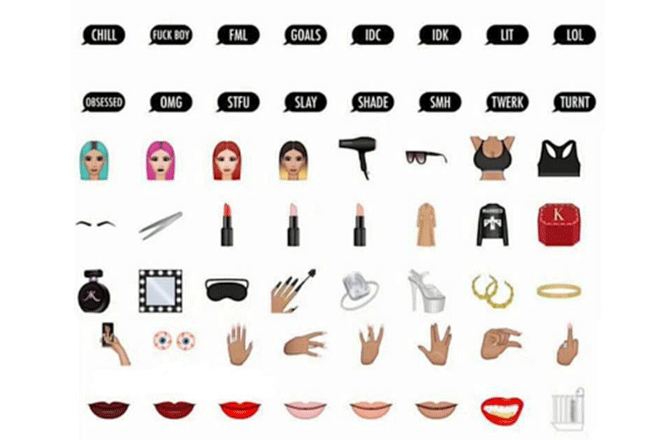 @officialkimoji
We just can't seem to get enough of our fave celebs on TV, Snapchat, or Instagram. But, thankfully, there's another way to get more of them in our lives: Celeb emojis.
Why talk about Kim K.'s recording of Taylor Swift through text when you can send Kimojis instead?
Download the hilarious emojis below and you can incorporate celebs into everyday convos. It honestly doesn't get better than that (admit it!).
Kimoji
Kim Kardashian created her most iconic moments into emoji form. Let's face it — we only downloaded this keyboard to use her crying face emoji. Can you blame us?
---
Benzomoji
When one of your fave Pretty Little Liars character a.k.a. Ashley Benson comes out with emojis, you have to download them, right? Um, yes. Besides, there's nothing cuter than Benson and puppy emojis.
---
ChyMoji
Download Blac Chyna's app to finally have all the sass you could ever need to portray via text. From Chyna emojis blowing bubbles to painting her nails, you'll get your glam agenda across with these symbols, for sure.
---
Justmoji
We will never say never to anything Biebs related. The only way to show how much of a Belieber you are is with his adorable emojis.
---
MuvaMoji
This app has over 900 emojis to choose from — which is why we could never turn down the opportunity to send emojis of hot dogs, puppies, Amber Rose's gorge face, and more.
---
Anselfie
If heartthrob Ansel Elgort give you the chance to use his face to display your own emotions, you take it! No matter what kind of mood you're in, there's an Anselife emoji to express exactly how you're feeling.
---
Gabbymoji
There's nothing quite like Olympian Gabby Douglas to inspire you. You can even customize these emojis to send empowering messages to your girls who slay every single day.
xx, The FabFitFun Team