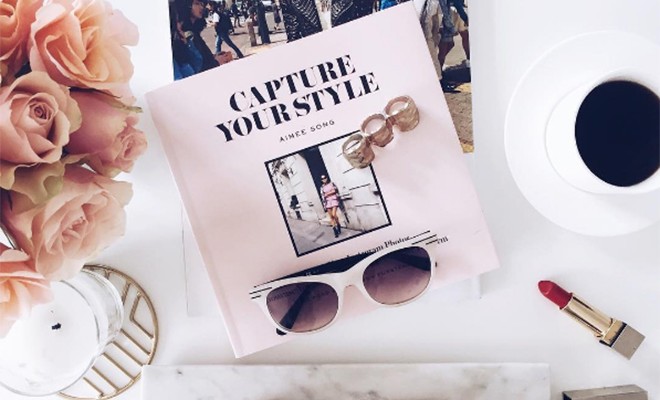 @huesofwhite
If you're just as obsessed with makeup and fashion like we are, you must check out these books written by some of the very best influencers on YouTube and Instagram.
Your favorite blogger might have written an actual book, and we've rounded up a few that are definitely worth the read whether you're looking to up your cardio game or transform your Instagram.
Bloom: Navigating Life and Style by Estée Lalonde 
Your favorited Canadian YouTuber and beauty blogger just came out with her book in early October, so get your paws on one while it's in stock! Bloom is a memoir of sorts in which she discusses who and what have made her who she is today. We hope it includes some great stories about her adorable dog Reggie and long-time boyfriend Aslan.
---
Girl Online by Zoe Sugg
Not only does Sugg, known on YouTube as Zoella, have her own line of beauty products, huge YouTube following, and a blog, she also has two fiction novels! Girl Online follows blogger Penny as she navigates high school and falling in love with American boy Noah in the digital age. The sequel, Girl Online: On Tour, is out now as well!
---
Tanya Bakes by Tanya Burr
Burr came out with a delicious cook book filled with yummy desserts and dialogue about her love for baking. This is actually her second book, her first being Love, Tanya about her journey to happiness. Check out her blog to see other awesome things she has accomplished!
---
Cassey Ho's Hot Body Year-Round: The POP Pilates Plan to Get Slim, Eat Clean, and Live Happy Through Every Season by Cassey Ho
Yes, the one and only Blogilates has a book! Check out this inspirational and informative read about health and fitness to have a hot body all year round. It has everything from workouts, recipes, and foods to keep your hair, skin, and nails looking amazing.
---

Capture Your Style by Aimee Song
She was one of the first bloggers to showcase her gorgeous outfits on the 'gram @songofstyle — and now she's giving us all the tips and tricks on how to do the same. This gorgeous book (of course it's Insta-worthy) shares the in and outs on how to edit photos, branding yourself, and the power of social media.
---
Make Your Mind Up by Bethany Mota
Mota is one of the biggest YouTubers in the game (she has over 10 million subscribers) and she's finally coming out with her own lifestyle book. From tips on life, love, and everything in between, this book is about the girl-next-door that turned into an Internet sensation
xx, The FabFitFun Team