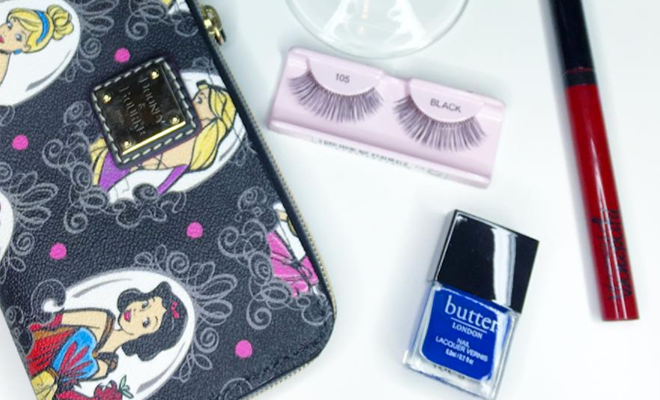 False lashes are one of the most commonly discussed topics when I'm working a makeup job. I always joke that we never judge a look until after lash application because they truly have the power to transform your face.
Lucky for you lovelies, I have spent the last decade of my life trying every single kind I can get my hands on to discover the best type. From cheapo $1.99 drugstore lash kits to extravagant $100 mink sets you can wear over and over again – I have tried them all.
Read on for some tips to help take the mystery out of one of the makeup world's most amazing secret weapons… and the scoop on my fav styles!
Georgie Beauty La Cherie Faux Lashes $15
If I want to look pretty, but not overdone, I reach for this pair. These are perfect for any occasion you want to look natural and polished like a wedding or photo shoot. The flexible band makes them easy to apply and also look extremely real. And if you're on a budget looking for a dupe, the Andrea Modlash #53s are pretty good too.
---
Ardell Natural #105
The 105s give a little more oomph for the days when you're ready to go big or go home! These are perfect for theatrical performances, any night out that requires a little drama (bachelorette party, anymore?!), or drag queens (#realtalk).
Application Tips:
Select the right type. Seriously, picking the right pair is half the battle. So many people say to me, "I can't put on lashes," "They don't stay on," etc. But really, selecting a pair that works with your eyes is key to making them more manageable. I find that lashes with flexible bands are the best. They form to fit the shape of the eyelid better than lashes with a solid, harder band, and also look more realistic. Stiff banded lashes are more likely to pop up and do not blend as well into the lash line.
Use good glue! In my experience, DUO lash glue is the best. Pitch it and grab a new bottle every so often to ensure the best quality (and less sticky situations).
Have patience. For newbies to the world of fake lashes, practice makes perfect. It'll be annoying when you're first trying to figure out the application process, but I promise you it'll be worth it in the long run!
For the latest and greatest in all things beauty, be sure to check out MartinisandMascara.com!
---
This story was written by a fab member of our Ambassador Network.