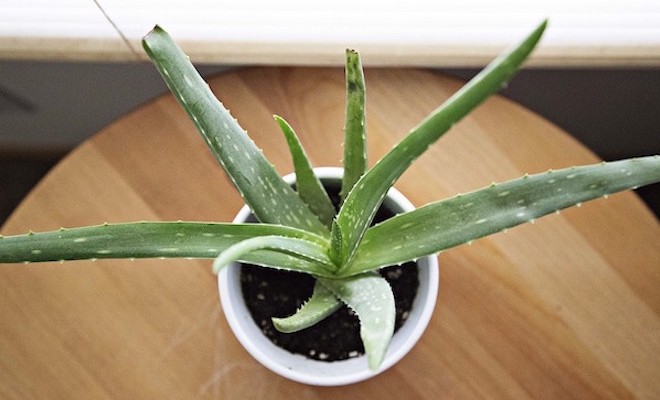 Everyone's heard of aloe vera. You know, the awesome plant that helps soothe and relieve sunburn? Yep, that one. But after chatting with the pros at Aruba Aloe, one of our favorite beauty brands, we learned that there are a lot more different ways to incorporate it into your beauty routine.
And since Aruba Aloe has been producing aloe for ages now, we'll let them take it from here. Check out their tips below — and properly take advantage of your aloe vera plant looking lonely in your apartment.
Get Rid of Chapped Lips
Aloe vera gel, extracted from the Aloe plant, is the perfect source of all-natural nourishment for your skin.
Use It as a Makeup Remover
No joke! It can also be used a natural, chemical-free way to remove makeup!
Sayonara, Breakouts!
Yep, you can even shrink zits and fight acne using fresh aloe vera juice.
Use It as a Moisturizer
The natural juice produced from aloe vera plants can be used as a hydrating facial and body moisturizer.
Natural Shaving Cream
Aloe vera can be used as a natural shaving creme for both males and females while reducing redness and irritation.
No More Itching
Get rid of nasty bug bites and reduce itching with pure aloe vera gel. This natural cooling remedy will quickly soothe skin and reduce redness.
Bye Bye Aging!
Prevent signs of aging and wrinkle formation by using pure aloe vera. Its natural, long lasting ingredients will make you feel and look younger.
A Natural Skin Brightener
Toss your whitening creams and potions aside, and brighten your skin the natural way with pure aloe vera gel. This wonder plant can help decrease skin discoloration and dark spots, leaving you with a youthful glow.
Use It for Shiny Locks
Incorporate aloe vera into your haircare routine to restore dead skin cells on the scalp for longer, smoother, shiny hair.
Heal the Natural Way
It heals bruises and alleviates mysterious rashes by spreading aloe vera directly onto skin for quick relief.
Use It on Scars and Stretch Marks
The sun can be harsh on your skin, especially during warmer months. Prevent scarring and stretch marks by applying aloe vera daily.
xx, The FabFitFun Team